Cub-Meista Report 06.08.08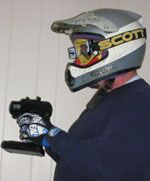 Do what you are good at, leave the other crap ALONE. Does Ferrari make motorcycles?
Does Krispy Kreme sell pizza?
This week two speedo companies made announcements showing just how far they will sink to try and make a buck. First off is LRP, with news of their totally non-awaited S8 TX nitro truggy. It doesn't take a rocket scientist to figure out that LRP sourced the truggy from some el' Chineseo' company. I mean, it's not like they grabbed everyone off the speedo assembly line and threw a bunch of truggy parts in front of them. This just screams "Here at LRP we can't make a living selling speedo's anymore so we have to branch out to nitro truggies!". All things considered, LRP makes arguably the finest speed controllers on the market, and electrics as a whole are making a resurgence, so is there really a need for them to diversify to being a nitro kit re-seller?
Speedo company number two isn't make quite the stretch. Still, Tekin announced this week their new 3400 mah Li-po battery pack. Tekin in itself is quite the story, having been pronounced dead and buried slightly over a half decade ago, to being snatched up and resurrected by Jim Cambell. No, I am not privy to Tekin's inside market strategy, but what sense does it make to just jump on the bandwagon of companies that source Li-po's from China then put a sticker on them? The Tekin name is based upon electronics, GOOD electronics, not energy storage devices.
Mark my words here, the only people that are going to get rich from Li-po's are going to be lawyers. They have yet to stick their dirty claws into Li-po companies, but the current generations of Li-po soft packet cells are dangerous, too dangerous. Sooner or later, all those blood hungry lawyers will be bending over Li-po re-badgers all day long. In my opinion, the good guys (and gals!) at Tekin should have leapfrogged the current Li-po fad, and jumped forward to newer technology.
The A123 Li-Fe Lithium Ion cells are by far the safest thing on the market. Instead of sourcing soft pack Li-po cells, Tekin should have shipped a bunch of A123's over to China and had cells reverse engineered, except for a better form factor. The A123's are Tough, they can be charged at insane rates, discharged even harder, and were engineered from the ground up for safety, thus being somewhat lawyer proof. If Tekin would have done this, they'd be offering a superior "next-gen" battery to the marketplace, and be sitting at home laughing while competitor after competitor is being dragged into court and milked dry financially over their Li-po soft pack cells.
One more quick mention in this weeks report- the winners and losers at the 08′ ROAR 8th scale buggy nats. Mikeee Truhe brought home the win with his Losi 8, while fellow teammate Billy Fischer brought home second place. First off, props to the Fish Man on yet another incredible drive. Fish is easily the most versatile driver from America, as he's proven he can run with the most elite drivers in not only nitro buggy, but any type of oval, on-road, and even tiny 18th scalers! He's hard working, hard driving, and has more fun at the big events than any other pro I've ever seen. Secondly, AE has yet to win a "big one" with their RC8. Just goes to show, you can hire the best drivers, throw truckloads of cash at it, but the competition at the very top of 8th scale buggy is INTENSE! Perhaps even more so than the height of 2wd mod electric buggy in the mid 90's.
That's it for this weeks folks. Drive fast, turn left, support your LHS and tracks, and be at Bash-a-poooloozza or be square!
Cub