Cub Report- Gratuitous I-Hobby Version 10.12.08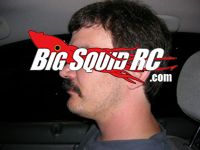 Hello fellow rc hobbyists. This Wednesday, all the makers and shakers of our most beloved industry will converge on Chicago, home of BigSquidRC, and also home to the largest expo in our industry. Pallets, crates, and two wheel dollies will be filled to the rim with booth making materials, where all day Wednesday industry types come in and set up their latest display of their wares. Thursday and Friday are "industry only" days, where local hobby shop owners are allowed to walk the floor uncluttered by thousands of Boy Scouts. Nothing against the Boy Scouts of course, but they can ask some of the darnedest questions. Then of course, on Saturday and Sunday, come the throngs of the public, looking to get their hands on some free stuff, take a look at new show product, and generally hang out with their fellow rc'ers.
So what's in it for you if you show up? First off, you get to meet many of the people you only read about in magazines or talk to on the phone. The Drake is typically running some Micro and Mini-T's around the Horizon booth. Lett, Anderson, and others are showing off the trick new AE product. Hell, every booth is packed by the people behind the product and stars of the sport.
Some of the manufactures still release a few "new" items at the show, so you can be the first guy on your block to see it in person, go back home, and be able to describe the intricacies with real world perspective.
Certain booths even offer some serious swag. Free T-shirts, stickers, product, it varies by the year. As you enter the expo center you are given on of those big "trade show bags", and few, if any, consumers have ever left the show with it empty.
Many booths feature the affectionately named "booth babes", and they are exactly that. No, they don't know much about the product, hell, most have never driven an rc car before. But, what they lack up for in rc knowledge, they more than make up for in "other assets"! So bring your camera as you'll need to have your picture taken with a few booth babes (just to make the guys back home envious).
I-Hobby also features a number of demonstrations. This year BigSquidRC is stoked to sponsor the primary demo track, and will be putting on demo's twice a day. These aren't your local tracks demo's, these are the WFO, who can hit the rafters type of demo's you'll only see at a huge trade show. (Btw, the "rafters" in the expo hall are at least 30 feet high) Everyone has heard the term "go big or go home". Well I-Hobby is THE biggest of the trade shows, and nobody goes bigger than they do inside the Rosemont. There were years where Castle Creations would go through pallets of trucks during their demo's, but they put on one hell of a show. And how could anybody forget The Drake busting some of the gnarliest air in history with his XXX-NT?
So in closing, support your sport, and support the city of Chicago. Get your butt, and your rc buddies butts, down to the show. You've been telling yourself that "one of these years" you were gonna make it to the show, well make it this year. If you need just one more reason to go, make it for BigSquid. Brian and crew are having their very first booth at the show this year, and as I've already talked about, he isn't holding back. BigSquid Babes will be there for your eyes enjoyment. Brian is having in pro drivers Tim Mohr, Wesley Dennis, and Jason Annis to bust out huge moves during demo track time for BigSquid. And if you hit the booth and say the magic word, you'll even get some free stickers! For the industry types, he'll have the hit numbers to show BigSquid isn't some poser site, it's a legit way to get a lot of bang for the advertising buck.
See you at the show, booth 2611, right across from the IHP and Axon booths, and right next to KY Model and Kershaw Designs.
Your Cub Reporter