Cub Report – The Week in Review 420 Edition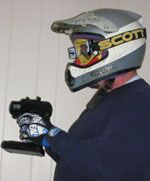 Trade shows in general are so 1980's. Back then they were heavily attended, with huge manufacture, dealer, and consumer support. Manufactures would debut oceans of hot new products and offer large incentives to dealers. Dealers couldn't wait to get away from their stores in middle-of-nowhere America to reap the deep discounts and to party down on some manufactures expense account. And consumers were stoked to get an exclusive first glance at the technology of tomorrow.
But then came that pesky internet. Manufactures started debuting new product on-line nearly every week. Dealers were tired of hitting the same old convention halls every year. And well, the consumers had already seen the new products on-line, so there wasn't much need for them to hit an expo to see old news.
Cue the 2008 RCX. This is the second largest trade show in the rc industry, held out in socal, and presented by the fine folks at Air Age Media, the publishers of RCCA magazine. It's a tough road to hoe getting a new expo going in the internet age, but Air Age Media has made a fairly good run at it. And while the show is far from perfect, and attendance probably isn't as good as it should be, at least they are
showing some real support of their sport, you have to give them kudos for that.
While most new products are released over the internet, a few new pieces were shown this weekend at RCX. The biggest news? Traxxas Finally did it. They showed the new E Revo. That's right, a hugely anticipated electric powered Revo. It's obvious that the rc industry is headed back to electric, and that is confirmed once again with Traxxas's information released on the E Revo. The public has been Begging for one of these for 2 years now. Traxxas gets the biggest props of the week for listening, and giving the consumers what they really want. That's how you make money in this industry, or any industry really.
The E Revo features a very E-maxx like power system (for now), with twin 550 motors feeding off a pair of batteries. But this truck just begs for brushless/li-po power, and Traxxas boasts that they've tested the drive-train up to 6S lithium with no problems. While I find that hard to believe, it will certainly be my pleasure to bolt in 6S worth of power and find out for myself! At the very least, Traxxas attempted to heavily fortify the drive-train, knowing full well that thousands of insane power systems will end up in this platform.
Also shown at RCX, the new Novak telemetry system. Of course these types of systems are really cool to play with, but it seems the only people that truly use them actually work in the industry. Any which way, the Novak system looks to be the king of the hill as far as telemetry goes.
Also of note from Novak at RCX- operating Mongoose systems (including a 9000 rpm/v motor), and each of their 10 different 8th scale conversion kits.
RC drag racers have been looking forward to the release of the Castle Monster Max speed controller for years now. 8th scale conversion nutz- ditto. Castle has shown different versions of the Monster system since RCX 2006. At RCX 2008, they showed easily the most finalized version. This speedo comes with a case that actually covers the top of a built in fan, and is claimed for insane power handling. On one hand, a big heatsink and fan can get rid of a lot of heat. On the other, if a speedo needs a fan and heatsink, perhaps it's not built to handle as much power as it should. The latest rumor is that we'll be able to find out for ourselves come early June. (just about perfect timing to go in my E Revo!) At first, this speedo might very well be sold by itself, with a ground churning Steve Neu/Castle designed motor coming shortly thereafter.
Speaking of Castle, they also debuted their new 8th scale conversions at RCX. The coolest feature? Radical looking battery trays. But will they actually get them out on the market before car manufactures like Ofna and Losi release their out of the box 8th scale electrics?
While this edition of the CubReport did not contain as much hate as it should have, should you feel the need to complain about this column, please do so. I'm looking forward to doing a feature story on some of the more colorful hate-mail letters. So think up your very best digs, and email them to the head cheese. Brian-at-BigSquidRC.com is the email address you are looking for.
That's it for this week geeks. Drive fast, crash hard, and make sure you have enough room on your credit cards to put a down payment on a new E Revo and Castle Monster Max at your LHS's this week!
Cubby