Cub Report – The Week That Seemed to Be 07.27.08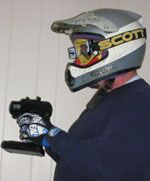 Good evening, good morning, hello, hello- welcome to yet another edition of the loathed Cub-Report.
So you like to go fast eh? Well, everybody does, that's why we are in this sport. Word went public this week about this years big high speed run event. Nic Case, current pwn'er of all things high speed, worked with Castle Creations and RC Driver magazine to get an event put together out east this October. I know there are a ton of BigSquidRC readers that do rc drag racing, so what about giving some high speed running a shot? Gear up, go huge, and just see what kind of top speed number you can bust out!
Of interest is the change of support from RCCA to RC Driver this year for the high speed event. Knowing how the guys at Driver handle things, I think we can expect for this years high speed event to totally blow away the RCCA backed events in every way. Expect much larger attendance, better competition, and a much better organized show this year.
Midwesterner Taylor James pwn'ed the boyz at the 8th scale buggy "World's Warm Up" race out at The Farm 2. The 8th scale buggy IFMAR world championship is the most prestigious racing event in all of r/c racing. Insiders and outsiders are speculating just who is going to take home the world championship this year. Some have their money on the warm up winner and Jammin factory shoe James, others are placing their bets on ThunderTiger/AE hotshoe Ryan Maifield. Personally, my money is on either Kortz or Pavidis. Both of those gentlemen always rise to the occasion for IFMAR worlds, while most of the other top American's flounder. This year will most likely be different, as the race is being held on a typical American track, where the boyz from Team USA will feel very much at home, while all the Euro's will bewondering where all the gravel and brick sections are at!
Also of note for the IFMAR's, Billy "Most Versatile Racer On the Planet" Fischer is ready and stoked to go huge. Billy is easily the nicest guy in the pits, and he has climbed to the top of the 8th scale pile in quite a hurry. If the Fishman is "on" at the IFMAR race, goodness help the rest of the world.
Jeremy Kortz, as I mentioned earlier, is one of my favs for the 08′ world title. What I've always wondered about him is this- he looks like the perfect pitch man for outside the industry sponsors, so why hasn't Red Bull/Monster/Rockstar/Etnies/DC/Spy/Kicker picked him up yet?? Jeremy is all tatt'ed up, sporting a killer left coast look and easy going attitude. Plus, he's perhaps the most naturally talented racer to come from the USA. Potential sponsors, if you are out there, I'm telling you Kortz can help you sell a s#!tload of product and get your name in the door of the r/c world on the best possible foot.
Anybody else notice LIVE CORR racing on NBC today? That sport has come a long ways, and todays live coverage is more proof of that. Unfortunately for my boy, and 7 time AMA Supercross champion, Jeremy "The King" McGrath, a flat tire ruined his day. Nice to see another ex-motocrosser Rick "Too Hip" Johnson carry the torch at the front of the pack.
The good guys are Schumacher released info on their new touring car, the Mission 3.5 last week. Now, the old Mission 3 was one of the best "elite" TC's out there, so what could they possibly improve? The retail price, that's what! Rumored retail of the new scoot is supposed to be right around $299, which looks mighty inviting considering all the other overly priced elite tourers from X-Ray, AE, ect. Props to Robin and SP at Schu for keeping their prices reasonable during these rough economic times.
What was the biggest "release" of the week? No, it didn't come from BigSquidRC's editor-in-chief Brian after watching some free internet pr0n. It came instead from Horizon/Losi in the form of new information regarding their all new 10th scale Slider! Now, I didn't get the memo saying "dirt oval is the hot new thing", so I doubt dirt oval is just gonna bust off the chains because of this new car. But, with the hot trend being "realistic" looking r/c cars, Horizon/Losi will move a lot of these off dealer shelves.
Btw- Horizon/Losi also announced a new body for nitro 8th scale oval! In some parts of our country, that is actually a pretty hot class. Just take an 8th scale buggy, put some funky body on it, run some crazy camber angles, and go out and throw some insane roost. With Losi's release of this body, you can only expect for them to produce a Losi 8 inspired oval car at some point in the near future.
Almost forgot, rumor is that Horizon/Losi's 10th scale crawler isn't that far off, so all you guys that got your panties in a bunch over them releasing an 18th scaler, should be able to un-bunch soon.
That's it for this week r/c fans. As always, get off your butt and get down to spend some cash at your LHS, drop by your local track to either watch, help marshal, or get some laps in, and read BigSquidRC on a daily basis!
Cub