Cub Report – The Week That Was 06.29.08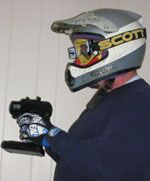 What has been the single most hyped car release of 2008? Arguably, the mysterious Losi Crawler. On the product side of things, Losi already had tires, bodies and other crawling accessories out for some time, so it's obvious they support the genre. On the marketing side- Losi put out more new age "internet buzz" on this model than any before it in history. Thursday, complete information on the truck leaked out- then came the big let down, at least for the serious crawling hobbyist.
What seemed to be the big problem(s)? First off, scale. Serious crawling guys were looking for a full-comp esoteric 2.2 size rig. What they got was a little 18th scaler. But that wasn't all. The comp guys were looking for a kit, as no real crawler is built box stock, and the new Losi rig is an RTR. And to top it all off, suggested "hobby shop" price is going to be right around $240, right at the same price of the larger Axel rig.
Losi's new crawler is really a sign of the times, at least among the "big two" based out of Champaign. Big sales numbers over what the core enthusiast wants. Will the new crawler be a huge sales success? Yes, definitely, but at what price to their former core buyers? This certainly isn't "Team Losi" anymore, it's now "Horizon/Losi", and don't you forget it.
It's no industry secret that the "big two" have been shooting for huge numbers for years now. No, not "huge" T-maxx type numbers, even bigger than that. Wally World numbers is ultimately what they are shooting for. A hobby grade company would make more money on the initial PO from Wally World than they would in a half decade through normal "hobby grade" retail channels. There is big money, like they make now, then there is BIG money, the kind that can only be tapped with a hit rc car sitting on the shelves of every Wally and Target in the country.
There have always been rumors that the original Losi Mini-T was Horizons first attempt at breaking into the Wally market, but due to lack of pull, insufficient contacts, and too high of a price point, that the deal didn't happen. But, there is no doubt in my mind that within the next 5 years you will be able to walk into any Wally World in the country and buy a new Losi. My only hope is that they use some of
that BIG Wally money to introduce some amazing hobby grade gear. This is America after all, the country that above all prides itself in the ability to make money.
Capitalism is all American, so you can't fault Horizon/Losi for that. Let's hope they don't forget about us true hobbyist that put them in the position to sit on the big box retailers shelves.
Support your local hobby shops and tracks!!
Cubby
PS: before the emails come in.. yes.. wally-Mart