Cub Report – The Week That Was 07.06.08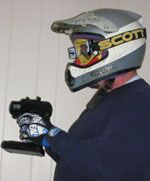 So, what truck has turned out to be the surprise hit of 2008 thus far? Two words- Traxxas Slash! Everybody seems to love the truck- hobby shops, tracks, bashers, racers, hacks, scale guys, pro's, brushless lovers, and noobs.
Myself, along with many in the rc industry, have constantly ragged on Traxxas in the past. But you simply can't argue with the success their new Slash truck is having.
Hobby shops love the Slash because they can't keep them in stock. Tracks love them because they are the hottest electric class going right now. Basher's love'em because they are hard to break. Racers love'em because they drive well and go around the track in a way that reminds them of a real Pro-2. Hacks love'em because of the large bumpers- you can put more "love'n" on the guy in front of you without breaking your own truck. Scale guys love'em because finally there is a truly race-able vehicle on the market that is actually close to scale. Pro's love'em because they are simply a blast to drive. Brushless guys dig how you can throw in pretty serious power without the tranny blowing it's guts up. And noobs love'em just because they look so trick.
Traxxas are no strangers to pwn'ing the sales floors in most hobby shops. AE and Losi might get all the big props, but Traxxas makes the money. The T-Maxx virtually saved the sport at the turn of the century. All their other models meet reasonable price points, give large bang-for-the-buck, and have much above average reliability. Traxxas's distribution chain is also one of their strong points (and object of envy to most other chassis manufactures)- you can walk into nearly any hobby shop in the
country and find plenty of Traxxas parts. Their latest nitro engines and chassis designs are literally marvels of engineering. And now, after the release of the Slash- it's even more obvious they have their heads in the right place. Release something fresh, release something that is simply FUN.
And what could possibly be even more fun than a scale electric Pro-2 truck? Well Traxxas has already answered that one as well. Last week Traxxas released information on their new "Slayer"- a nitro 4wd truck that looks just like a Pro-4! The truck features their powerful, yet easy to tune 3.3 engine, aluminum shocks set-up like the Revo, and attractive Pro-4'ish body and tires.
So how long till the Slash/Slayer clones start hitting the market? Well, years ago, after the runaway success of the T-Maxx, it took nearly 2 years for the clones to come out. I predict it won't take nearly that long this time around.
It's a no brainer to predict that producing kits closer to scale is going to be the next rage in the industry. This will actually be one that I look forward to!
Support your local hobby shops and tracks, and check in daily on the fastest growing
rc web-site on net- BigSquidRC!
Your Cub-Reporter