Cub Report, Version 01.10.09, Keyser Soze Edition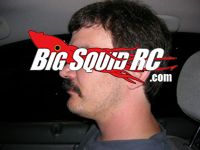 Gotta love 2009 already. AMA Supercross is the first "big name" racing to kick off the new year, and their season opener last weekend in Anaheim was one for the ages. James Stewart could'a, would'a, should'a PWNED. But, after some brain fade and/or Yamabog, he took out arch rival Chad Reed (and eventually Kevin Windham), and finished the first round with a huge DNF. Reed went on to finish with a damaged front rotor in third place, while Joe Gibbs Racing's Josh Grant took his first Supercross win. Look for full scale motowar to go off tonight in Phoenix as Stewart is surely going to be in full warpath mode on his new Yamaha. Bubba does not take losing lightly (but then, how does?).
In rc racing, the first big race of the year is always S&N Trackside's US Touring Car Championships (aka- The Novak Race). To the average rc basher/racer, perhaps it's not such a big deal, but if you are a carpet racer, it's easily one of the best, and most professionally handled races of the year. Mains go off tomorrow, best of luck to everyone racing up there in Brookfield WI this weekend. Btw, I heard Wisconsin just got the internet this week, congrats!
Bet ya didn't know that BigSquidRC is now getting more views than every print mag website except for RCCA's. Head tentacle Brian S. has been working harder than a Vegas stripper on free samples day, and the huge increase in hits/views is proof positive. Give him another 12 months, and I'm certain BigSquid will reign supreme in the E-zine battle.
On another Brian S. note, rarely does he contact me about rc related items, but I received the wildest phone call from him a couple weeks ago. Why all the fuss? He had just got done testing the big HPI Flux monster truck. He just kept going on and on about how fast that beast is. Brian is normally a gashole, but even he couldn't resist the charms of an extremely overpowered brushless monster truck. I have yet to drive one, but if Brian raves that much about the power, it's got to be something "above and beyond".
The new Castle Creations 8th scale buggy system should be hitting consumer hands in the next few weeks. It features a 2600 kv motor, and the much maligned Monster speedo. But- as with all Castle products, it has a reasonable price point, making that 8th scale conversion of yours a bit more affordable/doable. How well this system goes over will have a lot to do with how many 8th scale coversions are done this year. Let's hope it's rock solid.
Tekin released computer renderings of their new 8th scale speedo, and boy does the heat sink/fan set-up look a lot like a piece already on the market. Competition is a good thing, unless it's just really just one company making them all right?
Know that PITA rear bumper arm that keeps popping off the back of your Traxxas Slash? Well bless the guys at RPM. They have a new uber trick bumper mount that totally fixes that mess. RPM is a basher's God, putting out the right parts at a decent price that are nearly bulletproof. In the rc dream world that I drift off into each night as I sleep, RPM makes not just hop-up parts, but entire cars. Yes, in my dream world, I drive entire cars made out of that sweet RPM plastic, where hitting curbs WFO on 4S only results in minor scratches. But to get back to the real world, maybe the RPM crew should hire a good car designer/engineer, get a trick looking uber durable design cooked up, and have a go at it. This industry needs less cheap ass Chinese knock-offs, and more good ole' USA kick ass engineering/design. Just say'n………….
Trinity has put out a Li-po battery warmer. It's hard for me to even type here because I'm laughing so hard. Yes, warming Li-po cells does give higher voltage under load. But- putting out a dedicated "Li-po wamer" is like committing liability suicide. Hope Ernie puts some miles on his Bentleys, because some sue happy idiot will be driving them next year. I'm still laughing my head off at this one. Why not start selling a high zoot Li-po dead short device as well? How about a flame powered Nitro bottle warmer? I can't stop laughing, this is gonna get good.
Horizon has released info on their Losi 8IGHT-T version 2.0 truggy. I'm sure it's all high zoot and fast ect. But is it just me, or is the body on that thing the ugliest I've EVER seen? That body is ugly enough to make me want to poke my own eyes out with a hot soldering iron. Damn.
Speaking of ugly bodies, seen the new Parma Mini-Comp Crawler body? Luckily, I already poked out both my eyes with the soldering iron, but I've heard it makes that new Losi 8IGHT-T look trick. I dig the guys at Parma, hell even dig their gear, but perhaps another couple hours should be spent on cosmetics before going full bore on the molds?
Pro-Line is the latest entry in the rebate war. Buy more Pro-Line, send'em the receipt, get 10% off. Hell Ya! Goodness knows we spend enough on Pro-Line tires/rims/bodies each year around the BSRC office to keep the owner well stocked on Ferrari parts. The 10% offer is Awesome.
That's it for this week guys. As always, support your LHS and local tracks! Get off the net, get on the track!
Your Cub Reporter