Cub Report Version "Go USA!" 08.17.08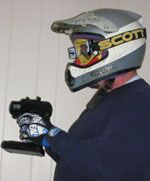 Welcome once again to another exciting and infuriating Cub Report!
BigSquidRC.com's top man, Brian, is not at the top of his game. He was actually hospitalized this week, but seems to be doing better now. If you get a chance, shoot him a "get well soon" note to brian (at sym) bigsquidrc.com . We need to keep Brian well and healthy enough to keep my checks coming. Thanks! 😉
Also in BigSquid news- aspiring models are needed. If you are, or know of a pretty lady that would like to get in some trade show modeling experience, shoot Brian an email as he is looking for "booth-babes" for this falls I-Hobby International Hobby Expo in Chicago. If you know someone, help Brian have the coolest booth at the show, and help a young lady gain a nice reference on her resume.
I can't help it, I've got Olympic fever. I just can't get enough! Phelps, Liukin, and others- how can I resist? It just looks so damn good in HD. Seems I'm not the only one, as the ratings of this years Olympics from Beijing are through the roof. But what does this have to do with rc? Not a damn thing other than it's nice to see a well organized event come off as a huge success, and I've got some results from the question I asked last week about who us Americans would like to see represent us if rc racing was actually an Olympic sport. The top 3 vote getter's from BigSquid readers are….
Honorable mentions- Brian "Dirtinator" Kinwald, Scott Hughes, and Billy "Mr Versatile" Fischer.
3. Mark Pavidis- Perennial front runner Pavidis garnered 3'rd place in the votes. Mark would certainly be a good pick for the team, as he has nerves of steel, and really picks up the pace the bigger the event is. He doesn't back down from anybody, forcing passes when he has to. And perhaps his largest asset? Car set-up, he's simply a master at making the most out of his equipment.
2. Ryan Maifield- AE's latest hotshot has been tearing a wide swath through the pro ranks, winning nearly everything he enters. Driven, determined, and even a bit cocky, Ryan drives the tires off anything he races, and isn't afraid to huck it huge to make a tricky pass. And, he doesn't just like to win races, he prefers to CRUSH the field. Confidence is a dangerous thing, and he has lots of it right now.
1. Getting the most votes for our theoretical "Olympic RC Team America" is- Adam Drake. The Drake is not some pretty boy model type, he looks just like you and me. But what he is, is perhaps America's top racer at the moment. The Drake is known for incredible corner speed, but less known, and more importantly, he is the king at finding good lines. If you want to find the very best line through any section (and have the skill to follow it), just watch where The Drake goes. Likable, friendly, and smart, The Drake deserves his title as being the best liked racer in America, and would represent a Team America in only the best light.
Of course there are tons of super talented drivers left off this list, but the most surprising to me was that not one carpet guru got made the top 3. Just goes to show that BigSquid readers, along with most Amercian rc'ers, know the top dirt guys better than the top carpet guys.
Did you tune in live to Speed TV this weekend and catch the CORR race? Gotta love CORR's tv package this year with Speed, as you can't beat Live! Rockstar/Makita/Kal-Gard's Kyle LuDuc pwned Pro 4, Rockstar Energy/BFGoodrich's Rob MacCachren took Pro 2, and BOSS Plow/Kumho/Amsoil's Chad Hord took Pro Lites. And what the Heck does this have to do with rc? Well, Thunder Tiger/AE unveiled their new rc CORR truck at the event, that's what!
Dubbed the SC8, which stands for "short course", the new AE rc CORR truck is based off their extremely fast RC8 nitro platform. The trucks look phenomenal, very scale, even down to the tires and mud-flaps. But will it be a bigger hit than the Traxxas Slash? Oh, it'll be a hit alright, but don't expect to see as many of them as the Slash. The Slash has a much better price point, and, it's electric, which is all the rage now. I'm also disappointed to see the SC8 being a nitro, as it's obvious the industry is swinging hard to electric now, but, I'm impressed to see AE jump into the "CORR" truck game so quickly. Industry rumor is that word about the Slash leaked out over a year ago from guys within the CORR ranks to the Thunder Tiger/AE camp, giving AE a bit of a "head's up" to get a similar truck to market. Truth? Who knows.
Not to be outdone, Horizon/Losi released info on their 8th scale nitro buggy based Oval car this week. Dubbed the L8ight, this is what you get when you take one of their 8th scale off-road buggys and convert it for oval use. Does it look trick? Sorta. Will it suddenly be the boost that dirt oval needs so desperately? I don't think so. But, it will open a lot of eyes, and provide lots of enjoyment to owners. I've seen converted 8th scale dirt oval cars race, and they look like a blast! Very realistic, lots of roost, tons of fun!
Now, if Thunder Tiger/AE and Horizon/Losi can FINALLY release their BL/Li-po 8th scale RTR's! I-Hobby, you'll see. 🙂
As previously posted by Brian on the main page, Tekin's former sales and marketing man, "Scooter" has opened up a new BL and Li-po company. Scooter has been a warm face to see at many a race, and I personally wish him the best on his new business venture. The BL/Li-po sector is a hard one to break into, but Scooter is a down to Earth guy that knows what racers are looking for. I am looking forward to seeing what he brings to the table.
Lastly, Red Bull Cola tastes awesome! It tastes best well chilled, just like normal Red Bull. It is quite strong, but very pleasing. If you can find a can, it's worth a sip or two.
Till next week, support your local tracks and LHS's, and check BigSquid daily for the latest and greatest!
Your Cub Reporter