Cubby Report- Le' I-Hobby Reporto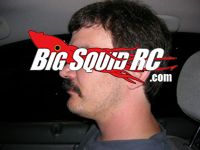 So let's jump right into the good stuff.
What was the hottest news at the show (besides the BigSquidRC and IMEX booth babes)? It was a hard call this year. I think the general consensus would have to go to the Traxxas Crawler. It was on display in all it's glory, and looked really gnarly. Although, in my opinion, it looked a little more "monster truck" than "crawler". Any which way, it was big, had huge tires, and looked like it could go over or through anything that might get in it's path. Will it be more well received than the Slash? No way, but as with anything the Golden Child Traxxas touches, it will be a steady seller.
Traxxas had their first entries into the "mini" market also on display. The Mini E-Revo and Mini Slash were both shown under glass because they weren't even plastic models, they were foam mock-ups. First time I looked at them, I thought they may have been shrunk down models of their larger offerings just for show. But, they are actually going to sell these. The rc world has been waiting for Traxxas to jump into that market for years, and during this time, 18th scale has gone from "hot" to "has been". These two trucks are destined to pump much needed life into the "mini" market, and become all time favorites of indoor bashers. 18th scale trucks tend to be very durable, have insane run times, and are a blast to drive in your friends driveway or garage. With a Traxxas stamp on top of one, they should set new standards for all the above.
You couldn't move two feet without seeing a Traxxas Slash at the show. I had personally totally dismissed the Slash when introduced, but it has become the "next T-maxx". It's everywhere, and when you watch them being driven, you just have to have one. At most local tracks, rules are strict, keeping them nearly stock. But bashers are having none of it, bolting on every hop-up they can bolt on. A company by the name of Xtreme was showing aluminum chassis's, towers, and even hub adaptors to run 8th scale buggy wheels/tires on the Slash. The guys at the local track will tire of running bone stock sooner or later, so I can't wait to see what direction the aftermarket takes with Slash hop-ups. Also can't wait to see Associated and Losi's rebuttal's.
You also couldn't move two feet without running into a booth selling brushless and li-po. The "new technology bastard" is now being sold by Everyone. It's amazing satisfying to watch all the "old school" companies who hated this stuff when it was first introduced sell their soul to the devil while peddling it to keep their doors open now.
Sign of the times? Booths featuring 8th scale gas truggies were getting very little attention, yet a booth with a bone stock Slash in it had people stopping and taking pictures.
Btw, pretty much every year for as long as I can remember, the Hobbico/Great Planes/Tower Hobby booth had the prime real estate right at the entrance of the show. This year, there was a full size Traxxas CORR truck parked in front of it.
There were many large companies that didn't come to the show. Big hitters like Kyosho, HPI ect didn't make the trip out to the midwest. That didn't keep exhibitor numbers down, as there seemed to be ten little companies show up for every one of the big guys that stayed at home.
BigSquidRC didn't just get their name on the map at I-Hobby, nor did they just get their name on the radar of the mainstream dead tree magazines, they showed they are a legit, uber urban hip, and trend setting/digital era media source. The combination of hot booth babes, great view numbers for advertisers (with very reasonable cost per view rates), and very professionally done track demo's, made BigSquidRC the break out hit of the show.
While walking the show on Sunday, I asked around about attendance numbers. Seems Thursday dealer day was nearly a ghost town, Friday dealer day was steady, Saturday consumer day was extremely heavy, and Sunday seemed about an average turnout. It's obvious the show organizers have worked really hard, both to provide lots of activities at little to no cost for consumers to enjoy, and also with/for exhibitors to get them good deals on booth spaces and demo areas. The 08′ show might very well have had a record number of exhibitors, and from looking at the demo's, that might have been a record as well. Nearly all the times were sold out for the BigSquidRC demo track, but there were also tons of airplane demo's, monster truck racing, tractor pulling, and robot fighting going on. So props to the show organizers, they have their chit together, and put on one hell of a good show. It's hard to pull record amounts of exhibitors and consumers in such a rough economy, but they pulled it off. All the exhibitors seemed to have gotten their money's worth, and the consumers looked happy as larks.
To conclude, many say the day of the trade show is dead. While I might agree that they are on their way out the door, the 2008 I-Hobby show proved that they aren't dead yet, and do serve a purpose, perhaps an even more important purpose in a bad economy. It pumps up those juices (and opens up the wallet) of not only the consumers that attend, but also pumps up those working in the industry.
Thanks for reading, read your BigSquid every day, and support those friendly folks down at your local hobby shops.
Your Le Cub Reporter