Cubby Report- The Week That Was 08.03.08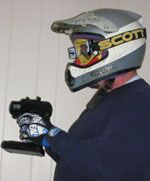 "You have GOT to be freak'n kidding me!" I shouted while walking up to Rodney Dangerfield.
The date was October of 2000, and I was in Vegas not only for the IFMAR 8th scale off-road worlds, but also for the US Open of Supercross being held on the same weekend. Most any weekend in Vegas will yield legendary stories, but that particular weekend was even more way-super-dope than usual.
I had spent the majority of that particular Saturday afternoon standing around in some hell'ishly sweltering Vegas hotel parking lot (at the "Silverton Hotel", and no, you don't want to stay there) watching IFMAR sub-finals, while all the biggest rc factory drivers of the week sat around waiting for their shot at the world title on Sunday. That year, Pavidis qual'ed in first, and looked to be a shoe in for the championship till he broke late in the main final, as the legendary Yuichi Kanai went on to the win.
While standing around in a Vega parking lot being cooked alive might be fun to some people, I left about 5 p.m. and headed back to the MGM Grand to watch the US Open of Supercross. This is a "one-off" type of event, not part of any series nor AMA sanctioned, but it does yield the biggest paid day of any single race in the history of motocross/supercross.
That evening, after watching Ricky "The GOAT" Carmichael crush his competition, I set off down the main lobby/casino of the MGM looking to do some gambling. That was certainly easy enough to find, LOL, and I sat down at the blackjack table next to Pro Circuit's owner Mitch Payton, former pro mx'er and factory wrench to the stars "Factory" Phil Lawrence, Arenacross champ Buddy Antunez, and AMA
Supercross/motocross champ Jeff "Fro" Emig, among others. Having a relatively limited budget by Vegas standards, I lasted all of 15 minutes before my empty pockets provoked me to find another less expensive type of entertainment. Mitch, while being known as one of the hardest nosed men (read- A-hole) in motocross, is actually very pleasant to be around when he's up a few hundred bucks at the
blackjack table.
This brings me to Mr. Dangerfield. By then, it was 2 a.m. in the morning, about the time you can see just about anything while walking around the strip. I only made it about 50 yards down the MGM lobby, and there he was. Now, Rodney was quite the old man by 2000, and wasn't in the best of health. That particular evening, Rodney was in a wheelchair, BUT- that wheelchair was being pushed around by two Gorgeous looking Vegas showgirls!
"You have GOT to be Freak'n kidding me!", it just blurted out, I couldn't even help myself. Yup, there he was, nearly 80 years old, and the guy that "couldn't get any respect" was being wheeled around by a pair of long legged, silicon enhanced, goddess's. I just couldn't believe it, not so much that I was about to talk to him, but by the fact he was living MY dream- 80's year old, living it up in Vegas late on a Saturday night, with a hot chic on each arm!
"Hey kid, it's past your bedtime" he replied to me with a small chuckle. I then introduced myself, and in turn Rodney introduced his two pieces of eye candy. Strangely, I don't remember their names now, but I'll never forget how they looked (from the neck down anyways). The girls wheeled Rodney over next to a table, and myself and the girls sat down next to Rodney's wheelchair. He was obviously looking beat, vulnerable, tired, and just plain older than I thought he would look like, but like nearly everyone else in the town that never sleeps, it's much harder to just sit around in the hotel room than look for adventure downstairs, no matter how old you get, so it was easy to understand why he was roaming so late in the evening.
Rodney was super nice and talkative, and seemed to actually care about why I was in town. It took a lot of balls for me to say "for racing rc cars", as that seemed totally meaningless to what he had done in his life, but he was actually sparked with interest by my reply. It seems that at one point in his life, he had wanted to get into rc airplanes as a hobby, but he told me that the guy behind the counter at the rc airplane store took one look at him and told him "pigs will fly before you can keep one these up in the air!". For nearly an hour, we just sat there talking about anything and everything, with a constant stream of people coming up to say hello to him. I just sat there with a smile so big you couldn't take wipe it off with a wire brush because it looked as though I actually knew Rodney, LOL!
Eventually, we parted ways, and it was really hard to sleep that night for sure. I made it back to my room about 4 a.m. and all I could think about was what a day I had. What really stood in my mind wasn't even the wonderful conversation with Dangerfield, it was the stark contrast I had seen back-to-back between the most elite rc race on the planet, and the most elite Supercross race. The IFMAR race was held on a crappy parking lot, at a crappy off the strip hotel, with nearly zero spectators, on a track that looked more bombed out than downtown Baghdad, with nearly a four story tall drivers stand made out of cheap looking piping, with the winners knowing that their sponsors were going to keep sending them more free stuff and maybe even some checks if they were lucky! The Supercross on the other hand, was held in the MGM Grand Garden Arena, seating capacity over 17,000, air conditioned, real working toilets with marble floors, scantily clad hotties pierced in places you couldn't see were everywhere, comfortable seating with a great view of the track, Dom Perignon easily available, and had over a $100,000 on the line to the winners.
Some people, even those deep within our rc industry, say that rc can Never become mainstream, and can Never hit the heights that Supercross has. But I beg to differ. At the local level, it can, and should be much larger because rc racing is just so much more affordable, and more importantly, you can't get killed while racing rc's!
At the most elite levels, I do admit it's going to be hard to pack in 17,000 paid spectators who can't even see the racing action because the cars are too small and too fast to follow. But what can not be appreciated when viewed from a spectators seat, could be appreciated when filmed properly for broadcast on television (if you need proof- just ask about BigSquid's rc drag vid with well over a million views). If the sport can build up the local racing base enough, there will be a demand to view the larger events on tv, thus creating enough ratings to make it viable for an ESPN/SpeedTV to cover national and international rc racing events. Unfortunately, larger rc races are more popular than weekend local events right now, and that is a trend that needs to be reversed for the hobby to grow as a whole. RC racing needs to be like an old oak tree, it's roots/base needs to be far larger than the creme at the top, not the other way around.
That's it for this week folks, as always, support your LHS, support your local tracks (even on non-trophy race weekends!), and read your BigSquidRC every day!
Cub