Cyber Monday Sale at Pro-Line Racing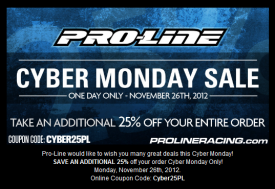 Our friends over at Pro-Line Racing are having a Cyber Monday sale today. Hit up THIS link to save yourself some cash on all that Pro-Line loot you've been wanting.
After you do that, hit THIS link to enter our Uber Pro-Line Give Away Contest to score even more!