Hey gang, Evol here with another drift rig review and I'm pretty excited to get to test out what I consider to be one of the most unique things I've seen hit the RC industry in a long time. You've seen the D9 Bulldog pop up in BigSquids feed a few times before with a lot of "that looks neat" and "I wonder" type of descriptions. Thebuildrc.com was nice enough to send us over a unit to review so now that I've got my grubby mitts on one and I can put it through its paces to share with you guys.
From: Thebuildrc.com.
Direct link: Dean Tech D9 Bulldog.
Unboxing pictures: D9 Bulldog unboxing
Price: $554.01
Specs:
RTR or Kit: Kit
Age: 14+
2wd or 4wd: 4wd
Countersteer: Yes
CS Ratio: 1:1.35
Shaft or Belt: both
Electric or Gas: Electric
Waterproof: NA
Scale: 1/10
Length: 257mm
Width: 190mm
Wheelbase: 255mm
Weight: 1.7kg
Differential: Locked rear, front one-way
Driveshafts: Steel CV shafts, Aluminum center
Shocks: Aluminum bodies, oil filled
Servo Saver: included
Screws: Metric, hex
Bearings: Yes
Tires: HPI T drift style
Battery: Not included
Part Number: 150607-01-CAR-DFT-COM-D9B
Primary Competition: Other 4WD front motor drift platforms such as the MST FS01D.
Whats needed to complete: Steering servo, Electronic Speed Control, 2 channel radio and receiver. Battery and charger.
Test Drivers: Evol, Howard R
Test Venue: EVRC drift track
Setup notes: For electronics I used a Speed Passion Reventon R 17.5 brushless setup. For steering i'm using a Futaba S9452 servo. Controlling it all is a Spektrum DX4S transmitter and receiver.
There is a lot of metal on metal in this kit. I highly suggest using blue thread locker on all connections.
Build quality: 98% of this car is carbon fiber and aluminum. The only plastics to be found are on the car are the ball cups, rear uprights and pinion and ring gears. The rest is all bling. The carbon plates look great and the machined parts have a great fit and finish. There was not one single hitch building this extremely complicated kit. Machining and materials all appear to be of good quality. Everything lined up and went together easily without even a hint of poor QC. When running the D9 is whisper quiet; the likes of which I've only seen matched by Yokomo. This is a precision high quality kit.
The build experience: That is where this kit falls down a bit. The first thing is that this is easily the most complicated electric car I have ever built. Its hybrid belt and shaft drivetrain make for a very unique build experience. The instructions had clear exploded diagrams to follow which were pretty good, but they lacked any in depth explanation for some of the more complex operations. Also some steps were completely omitted assuming that the builder will know what to do to finish the kit. In fact the last page of the manual abruptly ends making me wonder if there are pages missing. For that reason alone I would not recommend this to a first time kit builder. Parts bags were semi separated into marked packages, but after a few steps your bench will become a jumble of hardware and parts as they are not divided all that well.
Also omitted from the instructions were gearing and motor recommendations. The motor uses a pulley to drive a belt so dipping into your extensive pinion collection is not an option if your motor choice isn't ideal. Luckily my 17.5 runs cool as a cucumber and has plenty of zoot to get the D9 moving. Speaking of the motor the D9 is extremely cramped in this area. I could not use my first choice in motors because the fit is just too tight. This seemed only be a problem with some racing motors that have adjustable end plates. My Speed Passion dropped right in and works great.
Chassis notes: Different is how I would describe it, but different good. The front third and rear two thirds of the car are modular. You actually build them completely separate and then join them late in the assembly process. The bottom plate of the chassis is HUGE with tons of room for layout. The battery goes in the rear under a narrowed rear drive shaft for clearance. Carbon fiber plates run the length of the chassis providing rigidity and support for the drive train. The entire outer perimeter of the car is also closed in with carbon fiber trussing giving the chassis without a body shell on it a bit of a unibody look from the fullsize car world. Just sitting there I would describe this car as a functional piece of art work. It lacks some things as mundane as a front bumper to protect that beautiful front carbon splitter but who wants to crash this thing…..?
Suspension: Where to even begin. The D9 uses a MacPherson front suspension setup which might be a first in RC. This makes the front shocks much shorter than industry standards so aftermarket options are limited. Luckily the stock damper is a nice aluminum unit with a threaded body and an adjustable collar. The shocks ride on a pivot ball that is integrated into the suspension arms which looks really cool, but adjustment is limited to a camber plate on the upper suspension mount. You can adjust camber up to 5 degrees negative and caster from 3-8 degrees. A little bit limited in todays drift car arena.
On the rear of the car the suspension is more traditional. The rear uprights are a steering knuckle on a fixed link to hold their position. MST has employed this design so it should work OK. However the rear uprights are one of the only parts of the car that are plastic. Some matching red aluminum units to go along with the front of the car would have been nice. The all aluminum suspension arms hinge on nylon inserts so they should be very smooth and last a good long while.
I only have a couple of little gripes with the suspension on the D9. For one the springs are waaaay too stiff for my taste. I would have liked to see a few spring rate options included esp since the front shocks aren't likely to fit anything aftermarket.  Also the choice of o-ring in the shock is a bit rubbery. This soft o-ring makes the suspension drag and feel slightly bound up. A harder durometer would have been preferable to smooth things out. And last the droop screws are not very accessible. One of the fronts is completely under the motor so adjusting it is kind of a pain. An annoyance for sure but not a huge deal if you dont mind taking the motor loose to tweak the setup on your car.
Drivetrain: The D9 features the most unique drivetrain I have ever assembled in an RC car. The design is not intended for performance as much as it is for visual effect. Most of the pulleys you see in the front that give it a nice scale look are just there to route the output of the motor around the motor where it meets the shaft drive in the rear portion of the car. They could have easily just mounted the motor facing the other way to simplify things but that clearly is not the point of this car. The result is that the front of the car looks very complex much like the serpentine belt of a full size car. In the rear two thirds of the car the drivetain is much more traditional using a two piece drive shaft that connects to a ring and pinion gear which drives the rear wheels. The entire thing operates very smoothly and quietly which is nice. The only thing I don't like about it is that all of the pulleys on the car only have one shoulder so even a slightly loose belt can easily jump off and bring your fun to an end.
Handling: This is the part that blew me away. I admit that since DeanTech is an unknown quantity that I expected this car to handle like a sack of manure. What can I say I'm a pessimist! I'm happy to report though from the second I pulled the trigger I was in love. The Bulldog has a mild 1.35 overdrive on the rear that suits its wheelbase and included tires really well. Steering throw is massive and the included CV shafts (which are used front and rear) take all of the available steering travel without so much of a whimper of chatter. The stiff suspension limits the handling from getting really dialed in but I was grinning from the moment I put it on the floor. The included tires performed really well and were an ideal compound for polished concrete. No complaints there at all. Overall this is an extremely fun and easy to drive car.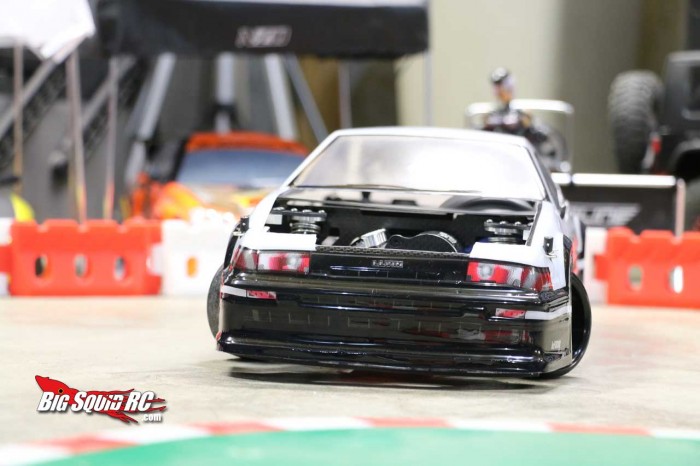 Looks/cosmetics Well that is really where the D9 sets itself apart from the rest of the field. You aren't likely to find anything else like this out there. Included are some nice scale bits to really help sell the realism of the car. The velocity stacks under the hood are obviously quite eye catching. The dash cap and instrument cluster are a nice addition as scale builders could go nuts with it and detail it out with glowing gauges and steering wheels. They include some fiberglass seats, but don't really detail how they should be mounted. I employed some 3M double sided tape but wasn't really happy with the end result and the way they interfered with my electronics so I opted to leave them out.
The engine bay is obviously the highlight of this entire car and just screams to have a removable hood to show it off. That is where things get confusing. With my kit they included a AE86 Trueno body shell sporting the Initial D (check your anime references) paint scheme complete with noodle delivery signage. They could not have picked a more legendary drift livery for such an pivotal chassis but unfortunately the body shell doesn't deliver the goods. (OK bad pun) It appears to be a PVC body which is unfortunate because they do not hold up well to impact. The paint lines look to be applied using some kind of dipping method because the entire look of the body is that it got too hot and melted. Body lines sag and blur into nothing. Paint scheme lines wander off of their intended mark. This body only serves to diminish to what I consider to be a really nice drift chassis. I think they would have done better to leave it out altogether, but it's part of the package so I'll soldier on. Available separately is an actual carbon fiber hood panel that you can use if you cut away the molded in one. It actually fits really well and looks good too. Held on with magnets it is easily removable to show off that awesome engine bay. In my opinion though if you really want to do this chassis justice find a nicer body shell.
The last piece I'll touch on are the wheels. Included are 4 cast aluminum black anodized rims. The feature a 5 hole design that looks really nice. The anodizing looks good too even though i'm not a fan of black wheels in general. When installed 3 of the wheels would spin true, unfortunately one of them appears to be warped as it has a bit of a wobble.
Durability: In true BigSquid fashion no review would be complete without slamming the car into something to see if it breaks. In this case we were lucky because drift cars just don't go very fast and most of the time they just glance off of whatever they hit. The worst damage sustained was as suspected to the PVC body shell. That being said this is not a car I would put in the hands of a beginner. The lack of a front bumper does not lend it self well to crashing into things so this car is best suited in the hands of a seasoned driver who can keep it off of the boards most of the time. The only issues experienced during testing was a tensioner that came loose causing the car to throw a belt.
Overall opinion: My overall opinion is generally positive. Right out of the box this car is a blast to drive. The design is very original and is sure to turn some heads at your local meet. The amount of machining and materials you get for your money frankly amazes me. ThebuildRC.com has a complete parts catalog on their website to keep you running if you break something which is a plus when making an investment such as this.
All together I like this platform but it is not without its flaws. I do have a few small complaints like I feel the car is limited as far as setup flexibility and body choice due to the high dash and firewall. These are understandable given that they are not trying to build a competition platform. They are building a scale realistic platform. There are also some maintenance concerns like the bulkheads are not split to allow easy removal of the diffs and the the droop adjustment issues mentioned above. These annoyances aside I think there is a lot on offer for someone who wants a unique platform to get all scale crazy on.
---
Summary:
A = Outstanding/Best in Class, B = Above Average, C = Average, D = Below Average, F = Horrific
Time To Bash: C
Very complicated build with a fair amount of figuring out things on your own that the instructions do not detail.
Workability: B
For the most part the car is easy to work on, but there are some design choices that make doing certain things on this chassis a pain in the rear.
Car Show Rating: B
An attractive chassis that I just cant get enough of looking at. Loses points for the body which does not do it justice. Lots of shiny aluminum is always pleasing to the eye.
Fun Factor: A
Drives fantastic right out of the box. I really enjoy driving this car. It's easy to just relax and drive without worrying about fighting the car.
Handling: B
This would be an A if I had some suspension options with springs. It is way too stiff stock. Still I can work with it.
Value: B
At 550 dollars that puts it in pretty elite company, but there are more moving parts on this car than you can shake a stick at and all of that technology and material costs money.
Parts Availability: C
You're not going to find them at your local hobby shop but they are readily available online.
BigSquid Rating: B
I really like this car despite my early misgivings about it. It may go after a niche audience but I think this is a great chassis to base a scale realistic build on. That engine bay blows away any vacuformed piece of lexan.
---
Thebuildrc has these in stock and ready to ship. If you want to pick one up you can find them here.
Or click Here for more RC Drifting news on BigSquidRC.