DirtChamp Designs Timing System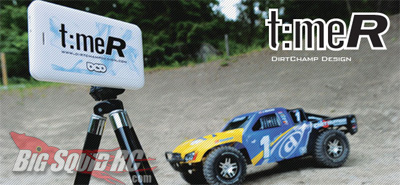 Here's some news for the racers and bashers! DirtChamp Designs will soon be announcing their new super portable timing system! It's everything you need in a little box. It's designed to be quick for setting up and wireless so you can set the box somewhere near your track, and then grab all the data with your laptop.
It's meant to be quick to setup, easy to take with you, so anywhere you have an instant track!
The car transponders work via IR linking, and the box communicates with your laptop via bluetooth. You can currently have up to 20 racers at once. It's a very interesting concept to us basher types. While we are not die hard racers, we are still pretty competitive. I have mentioned on many occasions where Bill, Cubby and I will just lay down some laps (read demolition derby) but we still like to see who can cross the finish line the most.
We will follow this one closely, and keep you informed.
Visit the Dirt Champ Designs web site for more pics and info.