DJI Innovations Phatom GPS equipped QuadCopter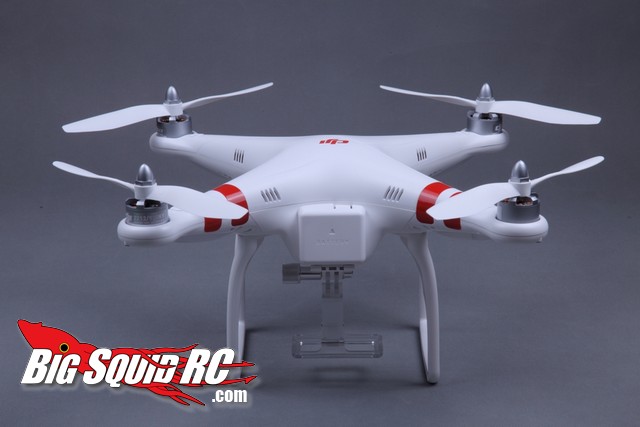 Quadcopters are all the rage lately and one of the hottest new releases is the DJI Innovations Phantom. The Phantom is a "mid-sized" quad who's claim to fame is it's integrated flight control system that includes GPS. This type of control system allows the Phantom to do many things, including the ability to use GPS satellites to maintain a specific point in the air when you let off the sticks, it allows it to return to a "home" point should the controller be turned off, and it allows the quad to be more easily flown by having the GPS and control system compensate for which direction you are going.
For instance, if the quad is a long distance away, and it is difficult to see its orientation, the flight control/GPS system can be set to always fly to the left when giving a left input on the stick, regardless of the orientation of the quad. Sounds complicated, but it really makes flying a quad amazingly easy. Some of the other features and specs for the Phantom include-
* Attractive and highly integrated design
* Ready-to-Fly
* Contains remote control unit
* Stable, yet agile performance, easy to fly
* Two flight control modes, including position hold
* Intelligent Orientation Control (IOC)
* Failsafe and auto go home/landing
* Low voltage protection
* Max flight speed 10 m/s
* Max vertical speed 6 m/s
* High intensity LED's to aid in orientation
* GoPro mount included
* 10-15 minutes flying time
* 6 channel 2.4GHz radio included
* Take off weight- less than 1000 grams
* Hovering Accuracy in GPS Mode- Vertical: ± 0.8m. Horizontal: ± 2.5m
* Max tilt angle- 45 degrees
* Size- 350mm diagonally from motor center to motor center
You can expect to see a street price of around $680 on the Phantom, and they should be hitting dealer shelves about any time now. Hit up the DJI Website to get a better perspective on everything the Phantom can do.
Looking for more air news here on BigSquidRC? Click right HERE.
Check out this crazy video to see the return home feature of the Phantom in action.