Dr Marty's Easy On Conductive Grease Review
THE Dr Marty's Easy On Conductive Grease Review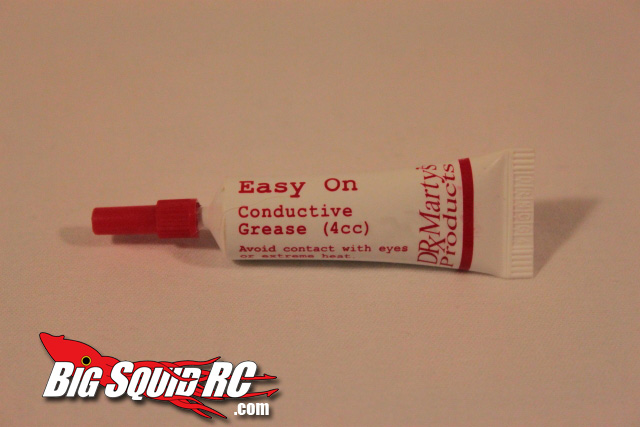 I must admit to being a connector freak. It's very satisfying when I can perfectly solder up a new set of uber connectors to my gear. I run good electronics in my cars, I am not going to waste one bit of power by using sub-par connectors.
While cruising the recent iHobby expo one of the people in the E-Power booth insisted that I try some of their Dr Marty's Conductive Grease on my connectors. I've used others over the years that didn't work worth a darn so I was hesitant, but finally agreed. I am glad I did, read on…
From: E-Power
Direct Link: Dr Marty's Conductive Grease
Review By: Cubby
Pics By: Cubby
Street Price: $3
What Is It?: Having problems getting your connectors apart or together? Are your connectors hot after use? The Dr Marty's conductive grease makes connectors slide together more easily.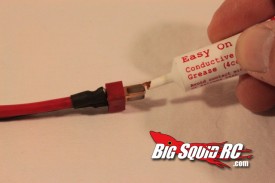 What's In The Box: A small tube of grease.
Test Drivers: Cubby, Tim, Top Jimmy
Test Connectors: Various new and used Traxxas, Deans and Tamiya
Notes: I was told to use the grease sparingly so I applied a tiny portion to the connectors on my chargers. This resulted in all my packs and speedo's getting a light coating. All my connectors were immediately much easier to pull apart and push together, the difference was remarkable.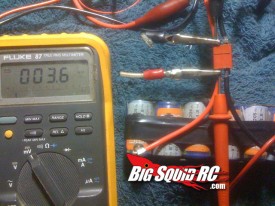 Downsides: During our high flying antics at iHobby (jumping 15+ feet high and landing to concrete) we had a few connectors come loose from the g-forces, but during normal track driving we didn't have that issue.
You may end up with a lot of dirt in the grease if you drive in a dusty/dirty environment.
The tube states "conductive grease" on it but after testing we think perhaps dielectric grease would be a more accurate description. During multiple tests we were unable to find proof of its conductivity. Feel free to prove us wrong (or right).
---
As with all of our stuff, if you see us at a bash, stop by and check out the vehicles we have with us. We may let you take a test drive, and at the very least get you some stickers!
SUMMARY
Time To Bash – 9.5/10 -It takes only a few seconds to apply.
Performance- 6/10 – Dr Marty's connector grease made all my connectors feel extra smooth but didn't come through on its promise of "conductivity".
Value- 9/10 – A tube only costs $3 and is bound to last for years.
Big Squid Rating – 8.2/10 – Tentacles.. Dr Marty's grease will fix those sticky connectors of yours while barely putting a dent in your wallet, pick some up and give it a try. The feel of a perfectly smooth connector is one of the finer things in life, hence the reason Dr Marty's grease has become an instant "must have" in my toolbox.