Drift Itch Product Spotlight – MST changeable offset drift wheels
Whats up guys, Evol here with some product spotlight action for your drift news fix. Max Speed Technology is a respected leader in the RC Drift scene. Few companies are as committed to growing the drift segment and their designs have been original, innovative and of generally high quality. Thats why it was such a shock when they put the selectable offset drift wheel out on the market. I think BigSquid was one of the first outlets to break the news on these wheels when they first teased them to their hordes of awaiting fans. In very short order I was being asked questions from manufacturers and drifters alike if they were adjustable offset (which wasn't clear at that time). As most drifters know Tetsujin had a similar design already in the wild as well as a fat patent on the concept when they hit so i'm sure legal teams were being mobilized. As details emerged on this wheel it became clear that this was not a mix and match adjustable on the fly offset wheel system at all. MST just wanted to take the guess work out of buying wheels that are the proper offset for your body. With this setup you can install your body and try any of the 4 standard offsets to see what looks the best and then glue them in place. I would call this more of a "flexible setup" than an adjustable offset wheel. So enough with the who stepped on whose toes, lets get to the nitty gritty on these things. Are they worth your hard earned cash? Or should you just plop your dough down on the Super Rims and call it good?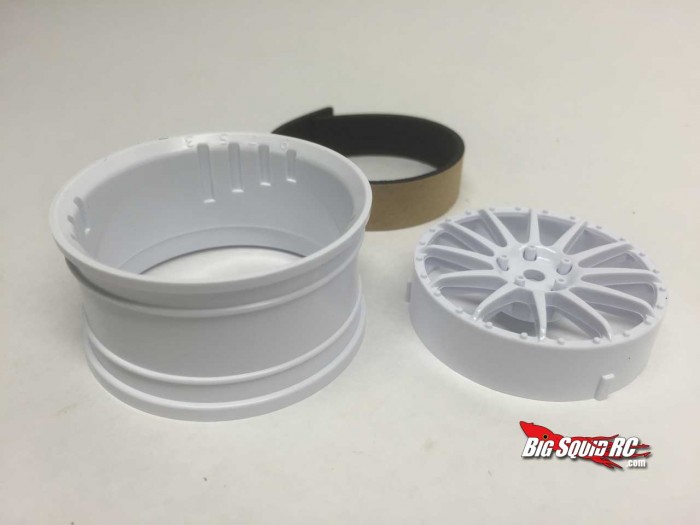 It's a hard sell for sure. I've been a fan of the Super Rims since they hit the market. While these wheels gimmick doesn't do the same thing as the Super Rim your car still rolls on them so they are competing for the same market. I feel like both brands have a lot to offer todays drifter. For me it would really come down to the kind of drifter you are. If you're a guy who brings 5 bodies to a meet and it constantly changing his chassis? Or are you the type of guy (or girl) who finds perfection with their sled and then enjoys it for what it is. The Tetsujins definitely take the crown if flexibility is your need. If your car is in constant flux you need a wheel that is going to be able to keep up with you because trust me carrying around a huge box of wheels sucks. Mounting, dismounting, who needs it.
That being said the MST holds its own in the fact that for one they are low cost enough that you can own several sets if you need to. They also take the worry out of buying new wheels because you know you're going to get the fit you need in the end. Pick out a design you like and buy with confidence. I like that aspect a lot. They also are a little more scale realistic I have to say. They have scale lug nuts and spoke designs are just more dainty giving them more of that full size wheel feel. Also the rear of the wheel is not hindered with a retention system so they have a more open look about them. I have ran into people who could not run the Super Rims with their scale big brake kits. The MSTs would not have this issue.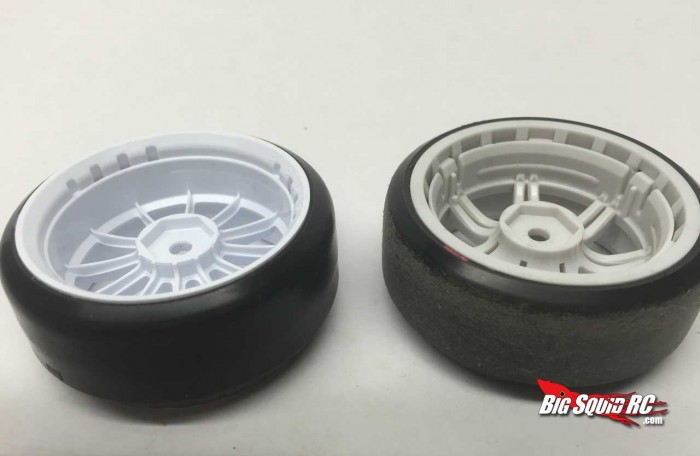 Performance wise they work as expected. Mounting them up is a breeze as it always is with MST wheels. They just fit their tires perfectly (which I use exclusively) and if you use their mounting tool (shown below) it really becomes a low stress affair. No worries about destroying wheels or tires in the process. MST is on point as far as the wheel and tire combo.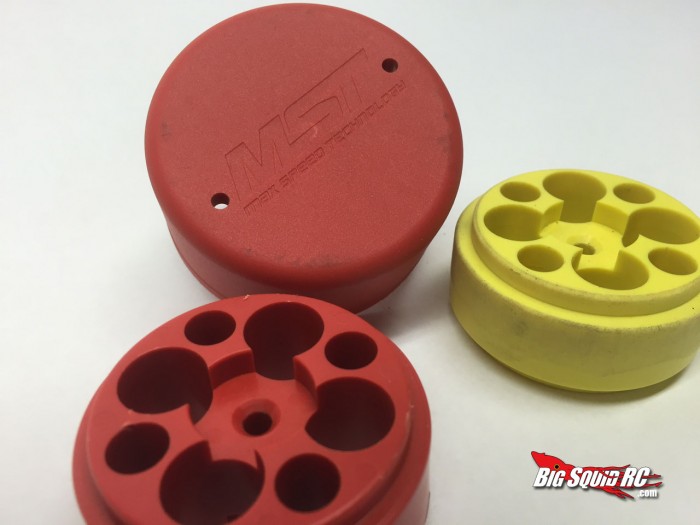 All four of my wheels spun true with no hint of imbalance. I even used E6000 to glue mine in place so I could remove it later if I chose which is awesome. Also included are cut to length foam strips that MST says helps silence the wheel on concrete. I don't know that I noticed a difference but it is a nice touch. And lastly they include some smaller axle nuts to clear the scale lug nuts a little better as depending on what you're using to mount them you could possibly damage the wheels using the standard wheel nut. I was able to use the stock wheel nut with no problem however.
All in all I think you get a lot of bang for your buck here. The quality is great and the wheels are attractive. They are not as convenient to modify as the Super Rim but they offer 1 more offset choice which is nice. I'd pick up a set of these without hesitation because they are a quality product. I'm not getting rid of my Super Rims anytime soon but these are a great addition to have on hand in any drifters pit box.
Price: 14.50 for a set of 4
Offset choices: +3mm +5mm +7mm +9mm
Includes: 4 two piece wheels, 4 sets of foams, 4 wheel nuts.
Thats it for now gang, I'll catch you next time around.
-Evol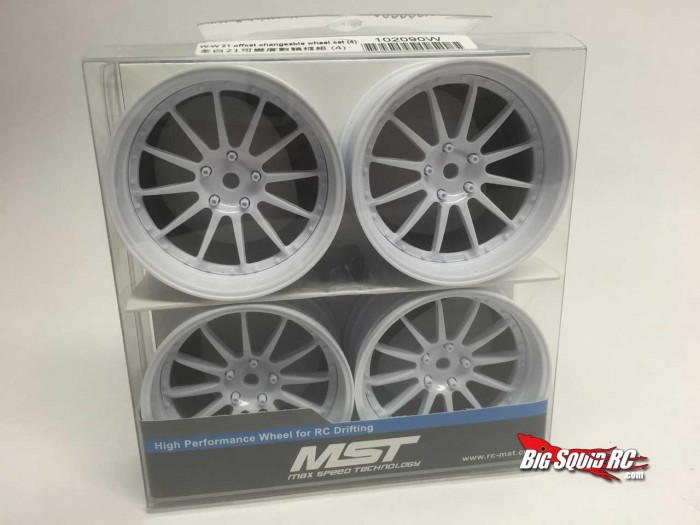 Want a set for yourself? You can find them as well as many other designs on Blackstar Hobbies right here.
Or for more drifting news click here.