What's up gang? Evol checking in again this time with another update on my scale drift track build. So far we have added some nice scale elements from Tetsujin, NZO, and a few choice items from your local DIY store. You can check out those volumes to get caught up on Part 1 , Part 2 and Part 3. Up to speed now? This time around I've assembled a small layout in my basement to escape the spring rains that have the Midwest streams and rivers running over. In my nice dry basement I've assembled a few more DIY store items as well as a few prefab drift specific dress up accessories.
This first thing I ran across was this Dimex Easy Flex no dig garden edging. I can't take credit for this find. I spied some drifters online using this as their only track layout tool. While it is certainly very functional for this it has so much more potential.
This stuff is cheap, durable and it makes great track barrier. You really could not ask for anything that was more suited to building a RC car track. It comes in 20, 40 and 100 foot sections so you have lot of flexibility in materials. Painted white and some stickers added this stuff could easily pass for full size track barrier.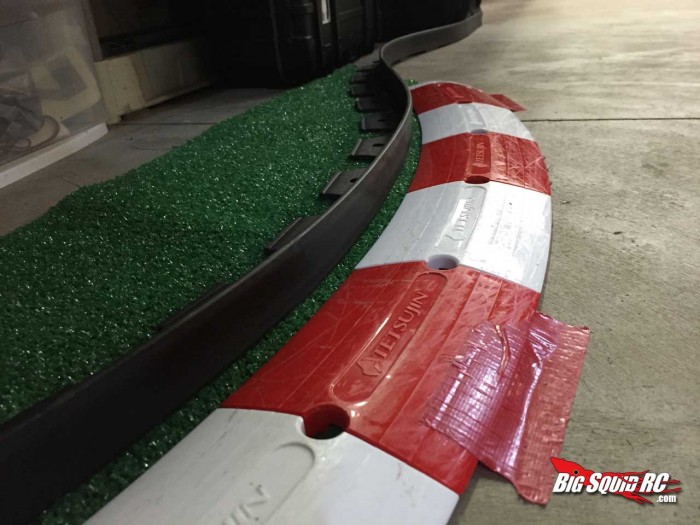 I combined some of this stuff with some astroturf and Tetsujin Kerbing and I think the result looks pretty nice. Dimex Easy Flex can be found at Home Depot or your local Walmart.
The next things I've added are these sections of PVC brick molding. When cut into 10 inch sections and painted they make a pretty convincing highway divider or barrier. This is another item from the local Home Depot. It comes in long sections and only costs in the 9-15 dollar range. It comes in white already so all you have to do is paint every other one in red Krylon and place them around your track to give it great visual appeal. Only on close inspection can you tell what it really is and the PVC material is very durable and has some nice heft to it.
The next items I used can be sourced at Michaels or Hobby Lobby. It felt like handing in my "man card" to set foot into a Michaels but they have a large selection of artificial plants which makes great flora to add some greenery to your track. To me this is one of the most pleasing visual mods you can do to increase the scale realism of your course. There is something to be said for the landscaping flavor it gives the look because you see it everywhere in the full-size world. These little fake plants can be quite costly however, I recommend checking back regularly before you invest too heavily because I have picked some of these up for as much as 40% off. Totally worth it even if you do have to endure some strange looks from the people running the register. All of these plants I've purchased so far have a notched type base that perfectly fits into my Emsco stone wall pieces. I've had several hard collisions with the barrier and the plants always stay firmly in place. A very nice convenience.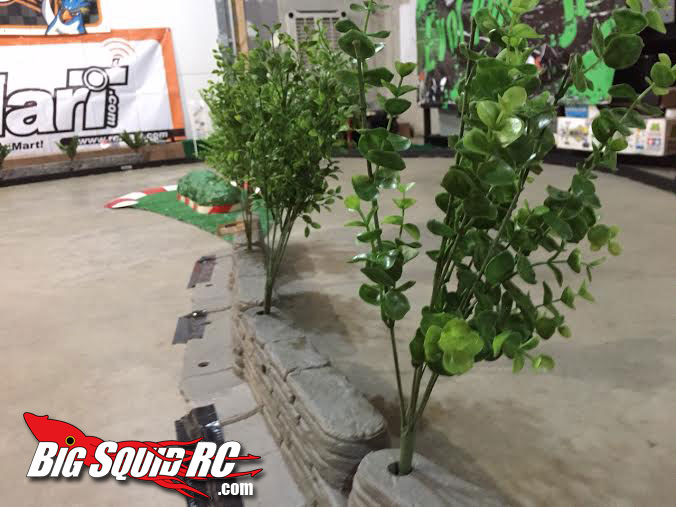 And the last item for this volume of my track build are the DS Racing guard rails. DS racing puts out these nice scale guard rails that are made of a very flexible rubber. Even the stand offs are rubber so when trod on they should survive with no damage. I don't think you could say the same for the Hobby King guard rails featured in earlier volumes of this build. The bottom of the pilings are covered in Velcro which makes them ideal for a carpet track. In my case since I was mounting them on concrete I simply cut some Velcro strips and stuck them to the floor where I wanted the rails to go.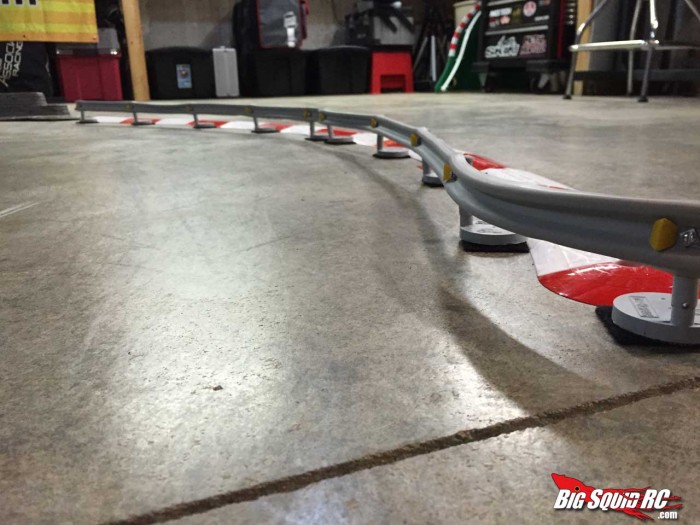 These very nicely accent the vibe my track has going and add more texture to the overall build. The more scale items to you add to the track the more convincing it looks in pictures and video and that is what we are going for right?
Anyway I hope I've given you some ideas for your own scale track creations, and be sure to add them to the conversation below in the comments. I'd love to see some of the mini drift venues some of you might be building out there.
Thanks for stopping by and be sure to check back for more RC Drift news here on Big Squid.
That's it for now!
Evol
To see more for DS Racing, they don't have a website but you can find their Facebook page here.
And the DS Racing guard rails can be purchased from RCMart here.
Not enough RC Drift goodness for you? Click here for more sideways action on BigSquidRC.