Drift Itch – Whaaat the…..
So if you keep up on RC Drift at all you see some strange stuff floating around the internets. People doing all sorts of weird things that they swear is the hot setup. Even in the racing world every club has a mad scientist who is always doing something a little weird just to keep themselves interested. This thing that I saw on rc-driftparts.nl's Facebook page falls into that category I think, but they might be on to something good. This project doesn't have a name that I know of, but it has grabbed quite a bit of attention, including mine.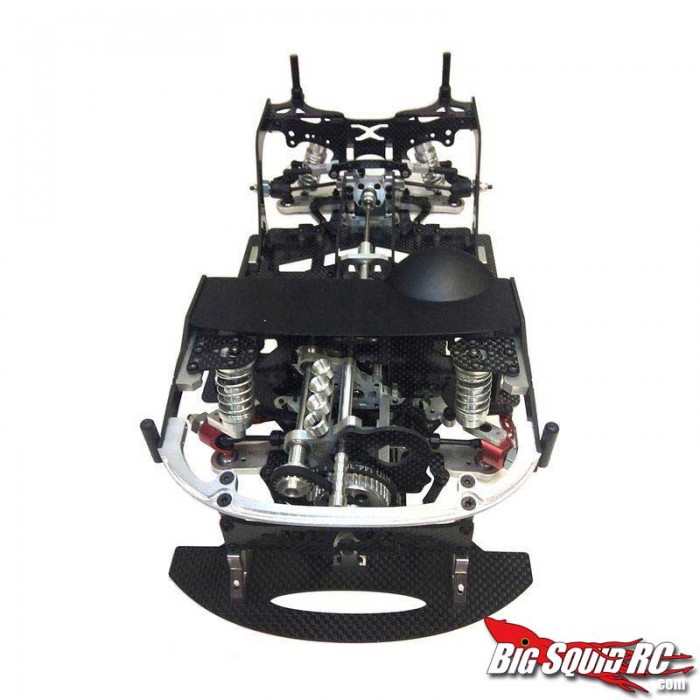 This chassis is the first real departure from what so far have been modified or re-engineered touring cars in my opinion. At the very least racing DNA has been very apparent in everything up until now. I know that manufacturers have been making strides in drift specific designs, but this thing takes it to a whole new level. Do I think this thing will replace everything on the market? No, but I do think that it represents a significant step in design that will take RC drift in a completely different direction. The options it provides for scale realism are everywhere. Even the front drive train has scale looks in mind where parts of it mimic the aesthetics of a full size powerplant. I'm not gonna blabber on because I know very little about it, but the possibilities that this thing brings to the table are quite exciting. I can't wait to see what the drift community does with it if it ever comes to market.
Until next time!
-Evol
For more RC drift news on BigSquid click here!