Drift Show Report: Raincity Raji Kon
Hi Squidders, I'm multi-bash, here to cover the drift scene from the West Coast and beyond. I've been drifting since 2011 and have been blessed to drift in Hawaii, California, Canada, Tokyo and here in good old soggy Seattle. I currently run a wildly modified countersteer (CS) Street Jam OTA-R31, have tinkered with RWD and can throw down 50:50 after some mental gymnastics. Each has it's own merits, but for day in and out bashing I think CS gives enough traction and scale looks to be effective anywhere you go.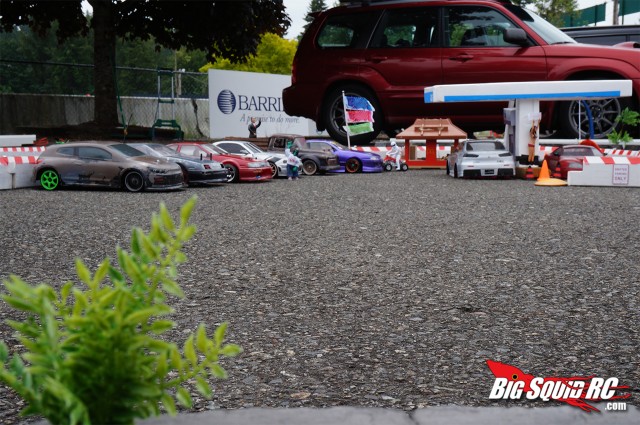 We'll talk more about these drivetrain designations, shaft vs belt and probably a spirited debate of if drifting is truly bashing, does it belong on the hallowed halls of BSRC?
Raincity Raji Kon, Seattle's scale RC drift club, is modeled to be a free community grassroots track. Part of our outreach, and keeping it free, is hosting demos at local car shows. We provide a spectacle, the organizers (usually) give us a 30'x30′ space and power outlets to keep a fresh charge. Outside of shows, we have a few members who invite the club to their homes or workspaces to setup the portable track; without a dry covered area, there can be no Seattle drift club.
The track is a collection of Emsco Trimfree Bedrock Walls available at your local KMart and DIY OneTen Drift Network style wood walls. A little splash of yellow Artists Tape for a "painted center line" gives drivers a strong visual reference as they chase the lead car deep into the corner. 5-7″ figurines make good 1:10 stand-ins and some recycled Styrofoam, point and shoot camera and color printer make up the gas station.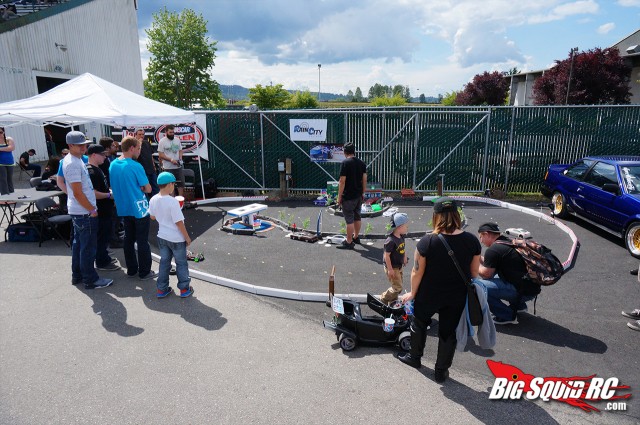 We had a great turnout at Driftcon and Import Face-Off shows, with a wide range of drivers and setups representing on track. 50:50 running with CS cars all day (Countersteer cars are tuned for the rear wheel to turn faster than the front, creating oversteer and RWD bias.) It was a classic run whatcha' brung drift fest.
Come by Seattle Hot Import Nights July 26th and check us out!
Enjoy the pics..
You can read more Drifting news by hitting This Link on BSRC.
You can also check out more full scale drift action over at Drifted.com, they have some great full scale articles.