Dromida 1/18th Scale Vehicles by Revell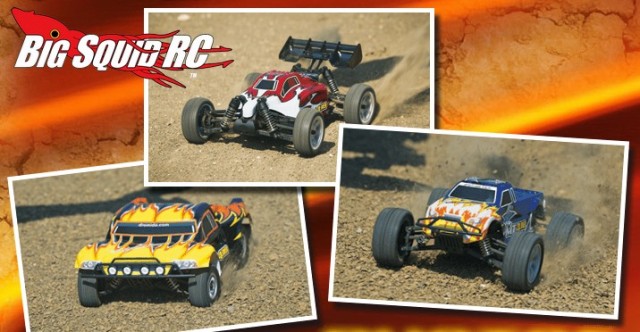 If you are anything like us, you grew up building Revell models. Now, Hobbico has announced that the famed Revell brand has a new line-up of entry level 1/18th scale vehicles called Dromida.
Dromida is a hobby grade entry level line that makes it easy and affordable for new hobbyists to get their feet wet in rc. They are affordable because they are all priced at $99, and they make it easy to get going because they came RTR with everything you need right in the box. Some of their other features include-
* 2.4 GHz radio systems with dual rate
* Waterproof
* 370 sized brushed motors
* Speeds up to 20+ mph
* Easy to drive 4wd
* Option parts will be available
* Ball bearings
* Gear diffs
* Aluminum motor mount
* Big bore oil shocks
* 6 cell 1300mAh NiMH included
The part numbers are- #DIDC0041 for the SC4.18 short course truck, #DIDC0042 for the MT4.18 mini-monster and #DIDC0043 for the BX4.18 buggy. All are priced at just $99 and should be hitting hobby shops in late October. Hit up This Link to tour the new Dromida website for lots more information.
Click Here for more Revell news on BigSquidRC.