Dromida Ominus Quadcopter from Hobbico – Review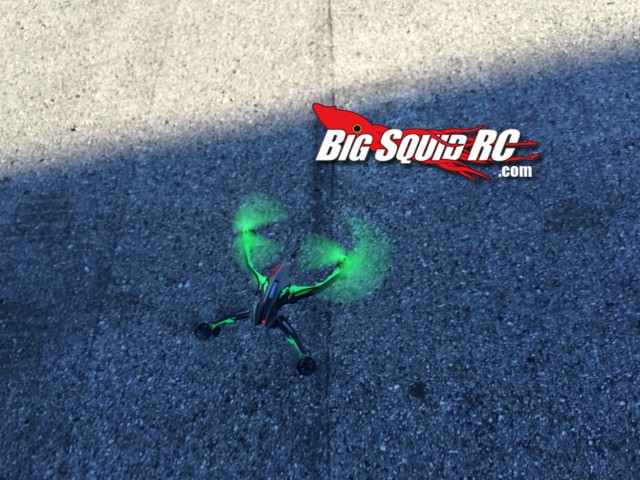 The quadcopter market, as I mentioned earlier, is continuing to grow. I can't help but note my surprise when Dromida announced they were expanding from 1/18  scale RC cars to joining the multirotor world. Enter the Ominus, a brushed 238mm sized quadcopter with full stabilization and flip capabilities. Is it as tough as the box says? Will it survive the Tomato Treatment? See the full review after the jump…
From: Dromida
Direct Link: Ominus Quadcopter
Order Online: Buy a Ominus Quadcopter Here
Unboxing Pictures: BSRC Unboxes the Ominus Quadcopter
Review By: Tomato Sauce
Pictures By: Tomato Sauce
Specs:
RTF/BNF: Ready to Fly
Age: 14 and older
Brushed/Brushless: Brushed Coreless Motors
Electric or Gas: n/a
Waterproof: No
Gyroscopic System: 3-Axis Gyro, 3-Axis Accelerometers
Flight Modes: 4 (Easy, Normal, Advanced, Expert)
Size: 238mm
Battery: 3.7V 1S LiPo 700mAh
Flight Time:  Hover: ~10min, Semi-aggresive flight: ~8min
Part Number: DIDE01**
Top Speed: Not recorded
Warranty: 90 Day Limited through Hobby Services
Street Price: $80

Primary Competition: LaTrax Alias ($150), Ares QX130($100), Blade 180QX HD($190)
What's Needed To Complete: Nothing
Build Quality: Everything seemed tight and well put together, no major issues visually.
Test Pilots: Tomato Sauce
, Brian, Cubby, Adam the Intern, Wrench and 3DBill.
Test Venues: HobbyTown Orland Indoors, HobbyTown Parking Lot, iHobby Expo 2014
Set-up Notes: We really had no issues setting up this quadcopter. Insert batteries into controller, charge flight battery, turn on radio, plug battery into quad, and fly!
Flying: While the Dromida tends to be a bit louder than its competition, that is the only thing that could be considered a negative in my time flying it. It handles nicely in all 4 flight modes: takes off nice, and levels beautifully on toss take-offs. I gave it quite the workout, as well as a beating, and the quad kept on kicking.
Bumps/Whoops: On hard landings, once in a while the motor mount casing would pop. Once it was snapped back into place, I went right back on to flying. I still cannot flip a quadcopter manually, and I sometimes pile drove that quad right into the ground, and still could not break anything.
Best Mod: Streamers for demolition derby, this quad is so tough I want to try that at iHobby (thanks to Hobbico for the idea from the product video)!
Notes: For those of you with Tactic air radios or the Tactic AnyLink, the Ominus is SLT Ready to link up with your radios for even more control and fun! Some flight modes are lost, but I know some pilots do like the feel of their personal radios, so the option is nice.
We did a bunch of our own Demo Derby at iHobby including 4 Dromida Quads vs a Foamie plane! We did our best to take the plane down, and the plane did it's best to take out the quads. There were dozens of hard crashes, and it was a blast!
The flight times are long, even during our demos, 3DBill would have to change 2 or 3 plane batteries while we kept flying.
Spare parts are cheap. If you need to replace anything, the price is right on all of them.
Summary:
A = Outstanding/Best in Class, B = Above Average, C = Average, D = Below Average, F = Horrific
Time To Bash: A Charge battery, install AAs into controller, and fly!
Workability: A Snap together parts or a few screws away from replacing anything on the quadcopter.
Air Show Rating: B Has a terminator/techno style look to it, and lights are great for night flying.
Bash-A-Bility: A Takes a licking, and keeps on ticking!
Fun Factor: A Easy mode switching and smooth control scheme, piloting and flipping this aircraft is tons of fun.
Handling: A The quadcopter is smooth like butter, can be aggressive when pushed, and the gyros locks solid when you release the right stick (Elevator/Aileron)
Value: A+ $80 for everything you need? Not too shabby. Granted it is only  $10 less than the Ares QX130, but the 4 modes of flight make the Ominus stand out a bit more.
Parts Availability: B Not likely to be at all hobby shops just yet (they are at mine), but they are on the way as I was told at local shops.
BigSquid Rating: A I'm not one to be super impressed about much in the quadcopter market considering the stiff competition, but Dromida really made an affordable, durable, and well handling quadcopter that I could put into the hands of almost anyone and know that I do not have to worry about them doing any permanent (or expensive) damage to it. I would say this could be the quadcopter to beat sales-wise this Christmas season.
Until next time, Stay Shiny and Keep Flyin'!
Watch for a video coming soon from our iHobby demo derby!