THE Durango DESC210 1/10th Scale RTR 2wd Short Course Truck Review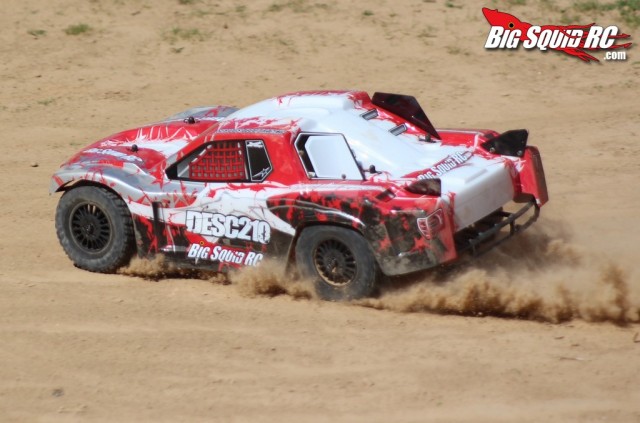 We just reviewed the Durango DEX210 buggy and lets face it, 2wd 10th scale buggies just aren't big enough or high enough off the ground to be effective bash machines. Today however we'll be taking a look at its big brother, the DESC210 RTR short course truck that has more ground clearance and is just bigger all the way around. Is the DESC210 a capable bash machine worthy of being in your rc garage? Lets find out…
From: Team Durango
Direct Link: DESC210 RTR SCT
Review By: Cubby
Pics By: Cubby
Specs- –
RTR or Kit: RTR
Age: 14+
2wd or 4wd: 2wd
Electric or Gas: Electric
Waterproof: No
Scale: 1/10th
Length: 544 mm
Width: 290 mm
Wheelbase: 321-329 mm
Motor: Speed Passion 13.5 turn sensored brushless
Speed Controller: Speed Passion
Low Voltage Cut-off: Yes
Radio: 2.4 GHz, Durango TX1, 3 channel micro receiver
Differential: Metal oil filled gear diff
Slipper Clutch: Dual pad
Driveshafts: Metal captured CVD's
Shocks: Big bore, alloy bodies, plastic caps
Screws: Hex head metric
Spur/Pinion Pitch: 48 Pitch
Tires: Unmarked brand with soft foam inserts
Battery: Not included
Warranty: 2 years
Street Price: $450
Primary Competition: Team Associated SC10, Losi XXX-SCT and 22 SCT, Venom Gambler, Traxxas Slash, HPI Blitz, ECX Torment, Kyosho Ultima SC
What's Needed To Complete: You'll need 4 AA batteries for the transmitter, a 2S Lipo battery with Deans connector, and a battery charger.
Build Quality: Overall very good, no shocks were leaking, gear mesh was properly set, etc. Plastic parts looked well molded with no excess flash.
Test Drivers: Cubby, Brian, Tim, Iron Mike
Test Venues: Leisure Hours in Joliet Illinois, RC Outlaws in Collinsville Illinois, Dirtburners in St Louis Missouri, an empty paved parking lot by one of the tracks and a grassy city park.
Set-up Notes: Venom AA batteries were popped in the transmitter and we used a Pro-Match 2S 5000 mah Lipo to power the truck.
Turning: The stock tires held the Durango back on dirt, but on pavement and grass the Durango cornered quite well. On dirt, the lack of raw mechanical grip from the tires resulted in poor corner speeds, but it still felt predictable. On pavement where the tires give better grip, we got a better idea of how the Durango really turned, and that was quite predictably. Nice turn in capability, nice rotation on tight 180's, and hunkered down on rails during big sweepers.
Jumping: Yes, the Durango suffers from the same parachute effect that every SCT does on windy outdoor tracks, however it absolutely ate up rutted faces and sideways landings. Numerous times we hit a bombed out jump face and got massively out of shape in the air, yet we were able to land and drive away without crashing. The Durango is the best jumping 2wd SCT available. Oh and, its stock body has plenty of outlets that can be drilled out to greatly reduce the parachute effect.
Bumps/Whoops: We actively sought out the most blown out parts of the track to test the rough track capability of the DESC and I am happy to report it works great. We would just pin it WFO at the worst of the worst and the DESC never failed to come out on all 4 wheels. Yes, it's an animal through the rough.
On-Road: The DESC was loads of fun on road. The truck turned well and its suspension soaked up road joints quite easily.
Grass: The DESC drove well in short grass, in fact it was a lot of fun. In taller grass its low ride height held it back compared to SCT's with higher ground clearance like the Traxxxas Slash and ECX Torment.
Tires: The stock tires are made from a fairly hard compound with soft foam inserts. The tires worked well on grass and pavement, but they lacked grip on a loose outdoor race track. There are other "scale" looking SCT tires that offer much more overall grip, and true Pro-Line race tires are yet another step up for traction.
Power: The brushless 13.5 power-plant that rips in the DEX210 buggy doesn't propel the DESC as well. After all, the SCT is heavier, has more rotating mass and its larger body has to push a lot more air. The DESC still had more than enough power for big roost and to make most of the doubles, and it was certainly more power than a noob could use, but we longed for a bit more yank.
Radio: Some drivers were fans of the rubber covered wheel, others were not. Range was more than sufficient for all our bashing uses.
Broken Parts: None, zero. And yes, we got plenty stupid with it. We did the full speed into a concrete wall thing a half dozen times, we did the huck it off the roof a dozen times, we bashed and thrashed it at the track and ended up with zero broken parts. The best we could do was shift the motor changing the pinion/spur mesh. Very tough truck, certainly bash worthy.
Misc Notes:
Motor temps were very reasonable. Our ambient temps were only in the 70's, but the motor temps were consistently less than 110 degrees.
The Durango uses larger size hexes on its wheels than the rest of the industry. Meaning good luck trying to find replacement wheels at your LHS.
There is no reverse on the included speedo. If you never, ever, ever, crash that shouldn't be a big deal. If you are anyone else you'll be replacing the speedo for one that includes reverse.
Sweet manual and packaging, best looking in the business.
The rear bumper looks like an afterthought. It hangs too low and it is made out of too soft of a material.
Super small micro receiver, very trick.
Kick ass servo saver that works exactly like it should. Achtung rest of the industry, this is the way it should be done.
The Durango body pins suck, they are simply too small. I "lost" them on purpose.
The front body pins are impossible to put in correctly. You'll need to bust out your cordless drill and put new holes higher on the body mounts if you want to save yourself a lot of cursing.
The double sided sticky tape that was used to hold down the speedo and capacitor is terrible, it simply doesn't work. Either plan on replacing it before you drive or bust out the zip ties to hold the speedo inside the truck.
The Durango SCT sports proper Ackerman in the steering. Proper engineering leads to a great handling truck.
Best Mod Under $5:
I've got a few here-
1. New double sided tape for the speedo and cap.
2. New rod ends, or better yet Dubro captured ends.
3. Deans is not a bad connector, but for higher current applications you'll want to convert to Traxxas.
Best Mod Over $5:
I've got two-
1. A speedo with reverse.
2. Some legit Pro-Line race tires.
---
As with all of our stuff, if you see us at a bash, stop by and check out the vehicles we have with us. We may let you take a test drive, and at the very least get you some stickers!
SUMMARY
Time To Bash – 9.0/10 – The DESC210 is fast and easy to get on the track..
Workability – 9.0/10 – It uses the standard tenth scale chassis layout, everything it out in the open and easy to wrench on.
Car Show Rating – 8.5/10 – The graphics are outstanding on the body, a sharp looking machine.
Bash-A-Bility – 10/10 – We did manage to slightly shift the motor, but to date, we have not broken one part on the Durango DESC210.
Fun Factor – 8.5/10 – You can smash into walls, jump off roofs, and go pwn your friends on the track, all from one machine. That's what I call fun.
Handling – 9.5/10 – The DESC210 is the best handling 2wd short course truck money can buy.
Value- 8.0/10 – It isn't cheap, but it is a load of fun, doesn't break, and sets new standards for handling.
Parts Availability- 8.0/10 – You won't find Durango parts at every LHS, but more of them are stocking up, and parts are readily available on-line.
Big Squid Rating – 8.8/10 – Tentacles.. We loved the Durango DESC210 RTR. What's not to like? We couldn't break it, it has decent power and it handles better than anything else in its class. If you are looking for a 2wd SCT to bash (or race) with, we highly recommend the Durango.