Durango DESC410R V2 4wd Electric Kit Short Course Truck Review
THE Durango DESC410R V2 4wd Electric Kit, Short Course Truck Review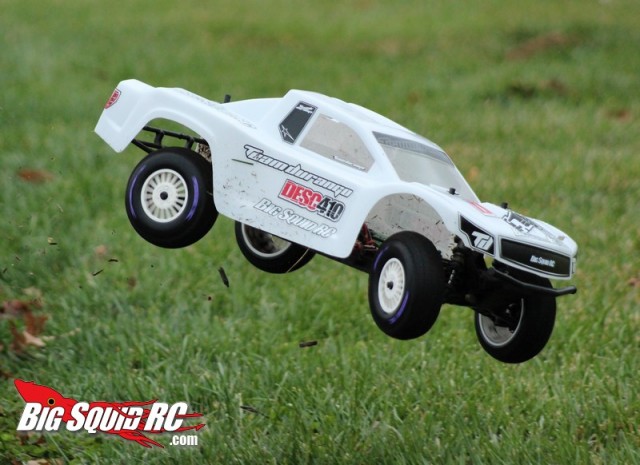 Intro: Monster trucks and 8th scale buggies used to be the Kings of the Hill at your local bash spot, but in the last couple of years 4wd short course trucks have made a run at the top. Today we'll be taking a closer look at the Team Durango DESC410R V2, a 4wd short course truck made for elite racing to see if it is as good at bashing as it is at winning trophies. How does it stack up? Let's find out…
From: Team Durango
Direct Link: DESC410R V2 Kit
Unboxing Pictures: BigSquidRC Unboxing The Durango
Review By: Cubby
Pics By: Cubby
Specs:
RTR or Kit: Kit
Age: 14+
2wd or 4wd: 4wd
Electric or Gas: Electric
Waterproof: N/A
Scale: 1/10th
Length: 550 mm
Width: 285 mm
Wheelbase: 329-336 mm
Motor: N/A
Speed Controller: N/A
Low Voltage Cut-off: N/A
Radio: N/A
Differential: 3 fluid filled gear diffs
Slipper Clutch: Yes
Driveshafts: CVD
Gear Ratio: 2.47:1
Shocks: Big bore, metal bodies, plastic caps
Screws: Hex
Spur/Pinion Pitch: 48 and Mod 1 spurs included
Tires: N/A
Battery: Not included, saddle pack
Part Number: TD102013
Top Speed (measured by BSRC w/ 2S Lipo & Mod 1 19t pinion): 30 mph
Street Price: $380
Primary Competition: Losi Ten SCTE, Traxxas Slash 4×4, Associated SC10 4×4
What's Needed To Complete: Radio system, motor, speedo, battery, battery charger, servo, pinion, tires, shock oil, diff oil, and lexan paint.
Build Quality: One of the nerf bars was cold molded and missing about half of its shape. Some of the CVD's went together perfectly, others were quite rough to build. Most parts looked great and went together well.
Test Drivers: Cubby, Brian, Tim, and Iron Mike
Test Venues: RC Outlaws in Collinsville Illinois, a city park, and a CostCo parking lot
Set-up Notes: Because the DESC410R V2 is a kit it requires multiple items to get going. We used a Castle Mamba Max speedo, Castle 1415 brushless motor, Futaba BLS 452 servo, TrakPower 2S 5400 mah saddle pack Lipo, Duratrax Posse SC tires, and a Futaba PK Super-R with R614FS receiver to control the whole thing.
---
Turning: The 410R V2 exhibits oversteer with stock settings. Of course this can be tuned out, but it can be quite a handful to drive when first built. On track you want lots of steering and side-bite for maximum corner speed, but for bashing this can make the truck hard to drive. We went to heavier front end settings to help eliminate this, but would have liked to have seen the truck come stock with sway bars. Sway bars would also have made the truck easier to corner with.
Jumping: The 410R V2 might be the best jumping 4wd SCT on the market. Plush suspension, 4wd, good chassis geometry, a center diff, and a super high flow body all help make the truck a great jumper. We found ourselves plowing blown out jumps at odd angles just to see if we could make a successful flight and the Durango always seemed amazingly easy to land properly. Take off is top notch, mid flight is exceptionally easy to control, and landings are soaked up quite well, the 410R V2 is a great jumper for a short course truck.
Bumps/Whoops: The shocks on the Durango are nice units, easily adjustable and they love soaking up the nasty. There is very little stiction and the shocks provide supple action throughout the entire stroke. Add in the generally geometry of the chassis and the 410R V2 can blow through some seriously nasty section at warp speeds.
On-Road: The Durango liked to traction roll on pavement. The 410R V2 doesn't come with sway bars and it has a ton of side-bite, thus causing it to flip when cornering hard on pavement. It's soft suspension sure does soak up road-joints though.
Grass: The 410R V2 can get around in grass, it's 4wd and decent sized SC tires allow it do so. However, the old high CG Traxxas Slash 4×4 is far superior to it in grass. The older Traxxas doesn't use a center diff and has more ground clearance allowing it to scoot around better in grass than the Durango.
Tires: The 410R V2 doesn't come with tires, so we bolted up some Duratrax Posse SC's. These are tires we've had good luck on high bite dirt surfaces and they held up fine during our testing of the Durango.
Power: The 410R V2 doesn't come with a power system, so we installed a Castle brushless system that put plenty of insane power to the wheels.
Radio: The 410R V2 doesn't come with a radio system, we used the Futaba Super-R with R614FS receiver and it performed flawlessly.
Broken Parts: When we jumped about 3 feet high in the air and landed on all four wheels the rear tower snapped. The plastic rear tower may have been previously stressed from a few hucks off a nearby roof, but there are other trucks in the class that we've done much worse things to that didn't suffer any breakage.
Misc Notes:
We are not a big fan of the way the center diff is mounted. The center diff is mounted in such a way as to be removed each time you switch out a battery pack. There is nothing wrong with the idea, the problem is the little wires they use to hold the top of the diff mount in. The wire likes to get cock-eyed and can be a real PITA to install and remove.
The stock body has a lot of areas that can be removed to help the truck jump better in windy conditions. There is very little "parachute effect" on the Durango and it was a pleasure to jump. The stock Durango body just might be the best on the market for handling/jumping.
There is a perfect motor mount out there, you can find it on the Losi Ten SCTE. The motor mount on the Durango is a PITA to use.
I am a big fan of the stock Durango servo saver. It works like all servo savers should, props on this one.
For some reason the 410R V2 comes with wheel hexes that are larger than the industry standard forcing you to only use Durango wheels. This is less than optimal.
The Durango design crew obviously went to great lengths to come up with innovative and original deigns on the 410R V2. It is not a cookie cutter truck, they took a few risks on it, kudos to Durango for having some balls during the design process.
The stock body clips are horrible. We "accidentally lost" ours and used Traxxas clips instead.
While the Durango went together ok, you have to open multiple bags to do certain steps, and the manual was not as detailed as some of the best out there.
The stock rod ends don't fit very tightly. Not having any binding is good, having rod ends pop off at the worst time is not. We would rather have seen captured ends.
Best Mod Under $5: Read up on chassis tuning. This is totally free, and while the Durango drives very well out of the box, it has incredible amounts of tuning options at your disposal. If you read up enough you should be able to make the DESC410 handle any which way you want it to on any surface.
Best Mod Over $5: There are zillions of hop-ups available for the entire Durango line-up, thus allowing you to totally trick out your rig. Because we ended up breaking a rear shock tower, my "best mod over $5" is going to be an Exotek carbon fiber rear tower. It's part #1253, cost around $45, and is 4mm thick. Hopefully you'll never bust one of those.
---
Summary:
Time To Bash – 7/10 – Compared to all the RTR's out there it takes a long time to get the 410R on the track. You'll be looking at a solid 3 or 4 evenings of work to get the Durango built and track ready. Compared to other kits, the Durango was average in build time.
Workability – 7/10 – The center diff is fast to get out, otherwise, the unique layout can make wrenching a bit more challenging than other trucks.
Car Show Rating – 9/10 – Everyone had love for the stock wheels and body. Sharp looking truck, perhaps the best looking in its class.
Bash-A-Bility – 7/10 – Our test sample broke earlier than expected, but it did live through several leaps off a roof.
Fun Factor – 8/10 – We had a blast with the Durango, it inspires confidence and is crazy fast.
Handling – 8.5/10 – Over-steer brings the rating down, while it's epic jumping ability brings the score up.
Value – 8/10 – A fully outfitted 410R V2 isn't cheap, but it's capable of some serious warp speed once built.
Parts Availability – 8/10 – More and more dealers are stocking Durango parts and they have good availability on-line.
BigSquid Rating – 7.8/10 – Tentacles. The Durango DESC410R V2 is no doubt an animal on the track, however, the attributes that make is so good there hold it back while bashing. If your primary concern is yarding people on the track I'd highly recommend the Durango. If you are looking for a pure bash machine there are better options out there than the 410R V2.
We shot a little video during one of the testing days, check it out in action: