Durango DEST210 RTR 1/10 Stadium Truck Review
THE Durango DEST210 RTR 1/10 Stadium Truck Review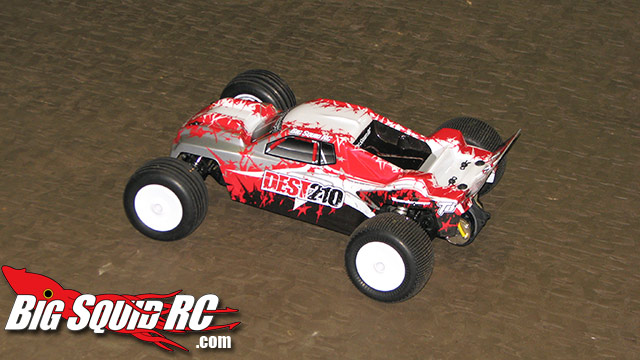 We have already reviewed the Durango DEX210 buggy and the DESC210 short course truck, so it was time to wrap up the group and review the DEST210 Stadium Truck. Since the DEST210 is still a bit low to do any backyard grass bashing, it was time to hit the parking lot, dirt paths, and the local track! Keep reading to see how it did…
From: Team Durango
Direct Link: DEST210 RTR ST
Specs- –
RTR or Kit: RTR
Age: 14+
2wd or 4wd: 2wd
Electric or Gas: Electric
Waterproof: No
Scale: 1/10th
Length: 411mm
Width: 330mm
Wheelbase: 282-290 mm
Motor: Speed Passion 13.5 turn sensored brushless
Speed Controller: Speed Passion
Low Voltage Cut-off: Yes
Radio: 2.4 GHz, Durango TX1, 3 channel micro receiver
Differential: Metal oil filled gear diff
Slipper Clutch: Dual pad
Driveshafts: Metal captured CVD's
Shocks: Big bore, alloy bodies, plastic caps
Screws: Hex head metric
Tires: Unmarked brand with soft foam inserts
Battery: Not included
Warranty: 2 years
Street Price: $439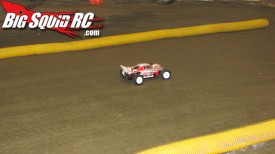 What's Needed To Complete: To get things rolling you'll need a LiPo Battery, 4 AA's for the transmitter.
Build Quality: Out of the box everything looked good. No oil leaked from the shocks, gearing seemed correct, and nothing needed any extra attention before we got things going.
Test Drivers: Cubby, Brian, Adam the Intern
Test Venues: Leisure Hours in Joliet Illinois, School parking lot, gravel lot.
Set-up Notes: We used 2S Trak Power 5600 Lipo packs for all of our testing.
Turning: The DEST210 has plenty of turning for the tight corners and pretty precise aim for the long curves. The stock tires did ok on the hard clay track, though I'm sure any 'racer' would be changing them out to something a little more suited.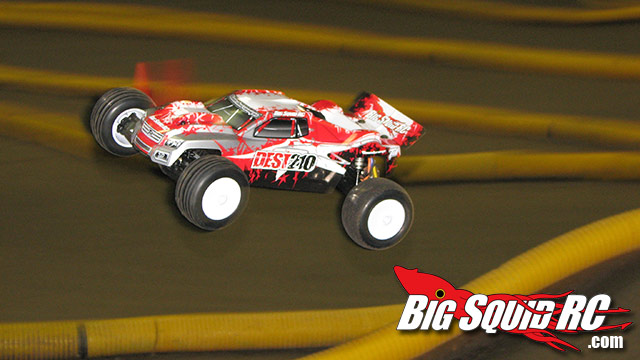 Jumping: The Durango DEST210 jumps very well at the track and on the ramps. We were never struggling to bring the nose up or down for a landing, the truck did what it was supposed to do, kept it level and did a fine job of making us look good doing it. Even when going for the huge air, we felt in control, and were never really panic'd about an upcoming landing.
Bumps/Whoops: In the bumps and rough stuff, the truck felt glued to the ground. The track guys at Leisure always like to throw in a few bumps before a turn to get people out of the zone, but the Durango DEST210 handled them with the attitude of 'That's all you got?'
On-Road: We did a little on-road, because that's what we do, and while the tires didn't seem really happy about what we were doing to them, the truck cornered like it was on rails, and the ramps we were hitting were letting us fly through the air no problems. The hard landings to pavement were handled without issue.
Tires: The stock tires showed little wear, even after some of our excessive on-road donut spinning antics. As mentioned earlier, they were not really ideal for the indoor track, but they were good enough that you probably didn't have to make tires the first thing on your shopping list.
Power: The brushless 13.5 had a good amount of power in the DEST210. We didn't feel under powered for the truck, and had plenty of get up and go when we needed it.
Radio: The radio is sufficient for a RTR. We didn't experience any issues with glitching or range during our testing.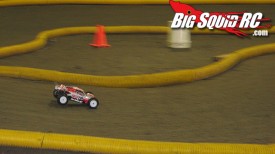 Broken Parts: We experienced one odd broken part during our normal testing. While flying down a straight trying to see how long I could push the speed before the turn, I got sideways and ended up sliding into a pipe/rail which resulted in breaking metal turnbuckle. This one was puzzling. Of all the things we could of broke, or should of broke, the metal part should of been the last to snap, but it did. We replaced it and kept testing. We haven't had another turnbuckle break since, so we may toss this one up to a fluke.
Misc Notes:
The lack of reverse in the ESC is annoying. We would have no problem if it came out of the box 'off' and it was something you had to find in a menu setting to turn back on. But the fact that it just does not exist is a bummer. Sure, you are not supposed to use reverse in a race, but we aren't racing ALL the time (especially us), and once in a while, I need to back up.
The manual is very well done, and has everything you need at your fingertips.
Just like our other Durango Vehicles, it wasn't long before we had to replace the double sided tape with something actually sticky. My guess it was one battery pack before the ESC was flopping around under the body. So expect that maintenance in your near future.
Like most of our vehicles, once we are sure we are satisfied with all of our testing, we decide to push it to it's limits. The truck took two full speed direct shots at a cinder block wall before we noticed a crack in the chassis. It wasn't long after before we had two halves, but this is under serious extreme situations. We were surprised it was still driving after the first hit.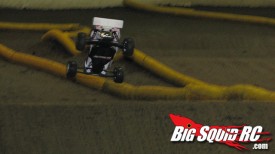 If you are a racing looking to get into the stadium truck scene, the Durango is a good choice and should be considered. If you don't plan on ever seeing a starting line, and are looking for a pure basher, there are some cheaper options.
Best Mod Under $5:
You are going to need double sided tape.
And probably some bigger body pins, and are a little too small.
Best Mod Over $5:
We like to back up now and then. A new ESC could be in your future.
---
As with all of our stuff, if you see us at a bash, stop by and check out the vehicles we have with us. We may let you take a test drive, and at the very least get you some stickers!
SUMMARY
Time To Bash – 9.0/10 – It does not take long to get the DEST210 up and running
Workability – 9.0/10 – Everything was easy to get to and work on. No problems.
Car Show Rating – 8.5/10 – The body will get you some attention at the track for sure! It's loud and proud.
Bash-A-Bility – 7.5/10 – We busted some things we didn't expect, and while it took a good beating, it's not indestructible.
Fun Factor – 7.5/10 – It's got enough speed to be fun, but this truck is really set up to be a racer.
Handling – 9.5/10 – The Durango DEST210 handles great! In the air, around the turns, you always feel in control
Value- 8.0/10 – This isn't the cheapest ST on the market, but from a racing standpoint, you get what you pay for, and this one is towards the top.
Parts Availability- 8.0/10 – Online is where you are going to be getting a lot of your parts from. Though we were surprised at how many Durango parts the Leisure Hours track had in stock.
Big Squid Rating – 8.3/10 – Tentacles.. Overall it was probably the best stadium truck we have driven. It you want to feel like and look like you own the track, the Durango DEST210 can help with that.