Duratrax 1-18th Vendetta TC EP 4WD RTR Touring Car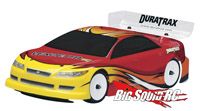 Duratrax has put out the full press release on their new 1/18th scale Vendetta TC. It's a 1/18th scale touring car, it comes RTR with 4WD! I got a chance to check it out at the iHobby Expo last week, and it was a pretty sweet looking car. The full press release will be posted in the NEW Product Forum.
Here are my pictures I took of the vehicle at the iHobby Expo. I must admit, the shot on the left actually looks like I know how to use a camera!