Duratrax 400 Giveaway Grand Prize!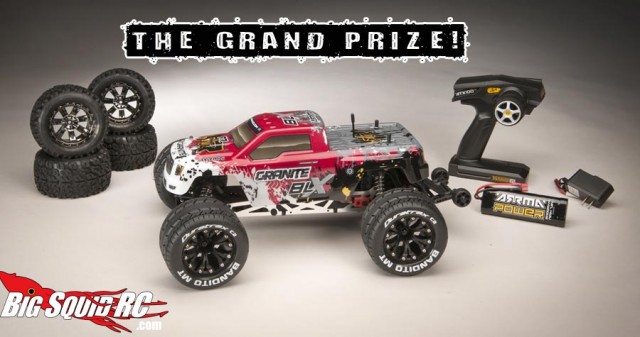 So when we announced the FINAL ROUND in the DURATRAX 400 Tire Giveaway, we mentioned that there was a ARRMA Granite involved.. well here it is! How awesome is that?! The Grand Prize Package includes the Arrma Granite BLX RTR plus a complete set of Duratrax Bandito MT tires on black wheels. Basically, everything you see in the photo.
If you have not entered yet, what are you waiting for!? We still have 100 tires to give away! You have till Sunday September 29th 2013 at 11:59pm cst to get your entries in! That is coming up fast!
The winner of the Granite will be chosen from all of the Previous WINNERS of the tires! So if you have won a set of tires in any of the 4 rounds, you are entered to win the truck! Your odds of winning that grand prize are 1 out of 100. How awesome is that? If you were a winner in the first 3 round already, you are all set! If you have not won a set already, guess what.. you better get entered!! The only way to enter to win the Grand Prize is to be a winner in the regular tire giveaway.
Remember, you can only win once! So if you are already a winner, please give the others a chance. We know you who are. 🙂
Lets go! Click here to enter the OFFICIAL DURATRAX 400 GIVEAWAY!
UPDATE!
Duratrax has been kind enough to sweeten the pot even more! They have just told us, in addition to the ARRMA grand prize, they are throwing in a complete set of all three of their new Pit Tech Deluxe products that we were recently announced! How awesome!