Duratrax 400 – Round 1 Winners!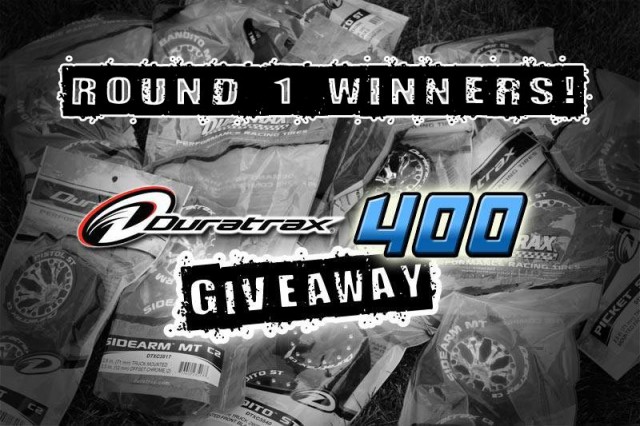 Our software has picked the first 25 Winners at random for our Duratrax 400 Tire Giveaway! Thank you all for entering and your support! It was the first time we had used that new software, and we think it worked out pretty well. We had a TON of entries, more than any other contest we have done so far! Seriously, almost 4000! That blew our minds!
Not sure what giveaway we are talking about? Check the OFFICIAL DURATRAX 400 GIVEAWAY PAGE.
Here is the list of the first 25! You will all be contacted via email in the next day or so. Congratulations!
Fuzzy Hartley
Robert Jones
Jerry Peters
Derrick Hill
chuck garbrecht
Michael John Mayo
Jeff "Jeffro" Dretzka
Harry Yip
Kenneth Cline
Craig De Boer
matt (DozerDooo@)
Luke Lenci
James Murphy
andy monroe
Patrick Jungewaelter
Branden Barnes
Eli Leclaire
Timothy Perris
Manny Ross-tinez
Jackdruley
Jon Bennett
David Willard Jr
Tak Lee
Nate (fastgerald1)
Sean Fredericks
If you did not win this time around, don't worry! There are still 300 tires and a GRAND PRIZE to give away! Watch this page for the next round of entries, and what you need to do to win! We will be announcing round 2 rules shortly!