Duratrax 400 – Round 2 Winners!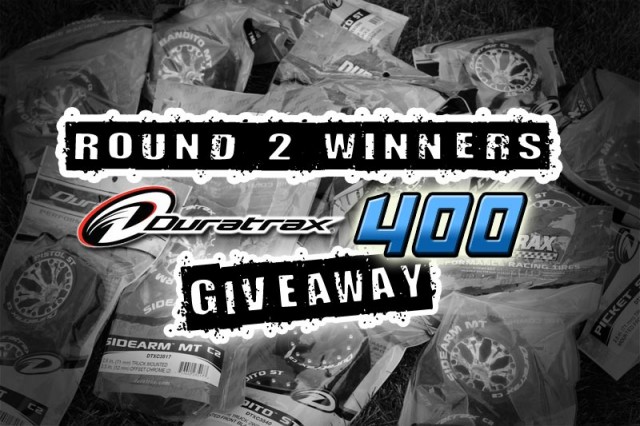 The random name grabber has picked 25 More Winners for our Duratrax 400 Tire Giveaway! Thank you all as always for entering! We know not everyone likes to do things on Facebook, so we'll make round 3 a little different! More on that later.. Lets get down to the good stuff!
Not sure what giveaway we are talking about? Check the OFFICIAL DURATRAX 400 GIVEAWAY PAGE.
Here is the list of the first 25! You will all be contacted via Facebook or Email in the next day or so. Congratulations!
Cory Delaney
Jeremy Weggen 
Shane Mccollom 
Donald Cook 
Shaun Duffy 
Shane Dunn
Steve Woods
Kevin Patrick
Charles Nichols
Justin McKee
Rusty Heath
Andrew Trask
Simeon P. Manalili
Devin Clark <--- Devin C. Please drop us an email! Don't have your contact info... Chris Keiser Jeff Lawrence David Len Will Smith Kyle Henderson Cruise Tyler Stephens David Swann Rick Putnam Lane Howard Howard Chancey Jason HartleyDidn't win in round 2? Don't worry! There are still 200 tires and a GRAND PRIZE to give away! Watch this page for the next round of entries, and what you need to do to win! We will be announcing round 3 rules shortly!