Duratrax 400 Tire Giveaway GRAND PRIZE WINNER!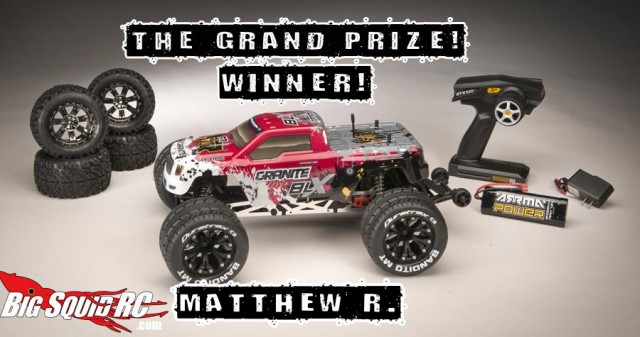 We have our winner in the OFFICIAL DURATRAX 400 GIVEAWAY! The winner was chosen at random (thanks random.org) from the 100 winners in tire giveaway.
Congratulations to Matthew Riley of Virginia! You have won the Grand Prize!
Here is what he wins! The ARRMA Granite BLX, the Duratrax Pit Tech Deluxe Truck Stand, Duratrax Pit Tech Deluxe Shock Stand, and Duratrax Pit Tech Deluxe Tool Stand. There is also a set of Duratrax Six Pack MT tires on chrome wheels, Duratrax T-shirt, and a huge Duratrax 3'x4′ banner!! We will also make sure to send out a bunch of Big Squid RC Stickers to go along with your new ride!
A huge thank you to Duratrax for making this giveaway truly epic! We had a blast, and hope everyone involved did as well! Thank you all for the support!
Didn't win this time around? Stay tuned….