Duratrax 400 Tire Giveaway Round 4 Winners!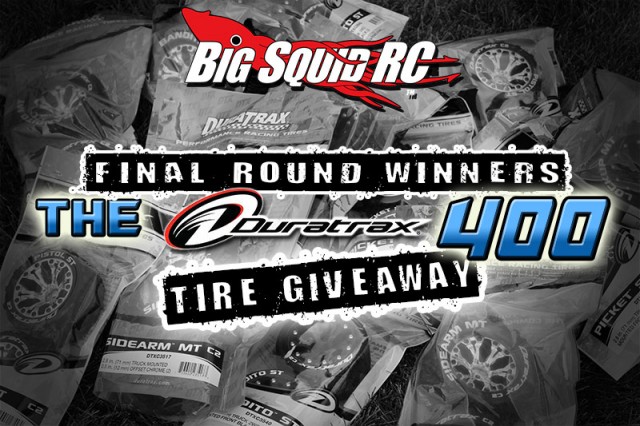 Here they are, the final 25 winners in the Duratrax Tire Giveaway! Congratulations to all the winners! And thank you all for participating in our biggest and most responded to giveaway yet! This last round had over 4500 entries! WOWZA!
Did you miss the contest? You can get the info at the OFFICIAL DURATRAX 400 GIVEAWAY PAGE.
Here is the list of the lucky 25! You will all be contacted via Email in the next few days.
Congratulations! Here are the names, we have emails. 🙂
Barbie Willard
Dave Loughton
Will
Adam
Eli Ramos
Mike Sloskey
Richard Padilla
Derrick A. Holland
ari rosenblum
clinton tucker
Jose Reyes
Jon
Rob LaValley 
Charles White
Michael Alexander Sims
Jeff Snyder 
Jason Engler
Noel
brandon hammonds
Matthew Riley
Eli Abramowitz
Adam Argue
mike D'Amore
Joey Smith
Josh Slifer
So those are the final 25 added to the 100 total winners! It's like we gave away 100 golden tickets! Those 100 people are officially entered into the GRAND PRIZE DRAWING you can read about at that link.
We will announce the GRAND PRIZE WINNER later this evening!
In addition to all that awesome stuff, it turns out there is even MORE for the grand prize winner!
So in addition to the ARRMA Granite BLX, the Duratrax Pit Tech Deluxe Truck Stand, Duratrax Pit Tech Deluxe Shock Stand, and Duratrax Pit Tech Deluxe Tool Stand. There is also a set of Duratrax Six Pack MT tires on chrome wheels, Duratrax T-shirt, and a huge Duratrax 3'x4′ banner!! We will also make sure to send out a bunch of Big Squid RC Stickers to go along with your new ride!