DURATRAX 7.4V LiPo CAR PACKS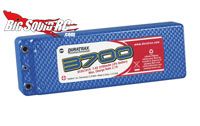 The Duratrax people have tossed their hat into the ever growing LiPo Battery ring. The packs are protected inside an impact and puncture resistant ABS case. They are wired for balancing with gold-plated bullet connectors for all terminals. They can be bought with a variety of leads such as Deans or the standard DTXC2211. I find the bullet connections right to the pack interesting.
The full press release is in the NEW Product Forum if you need all the awesome details!