Duratrax 835B 1/8 Scale Buggy Review
The Duratrax 835B 1/8 Scale Nitro Buggy Review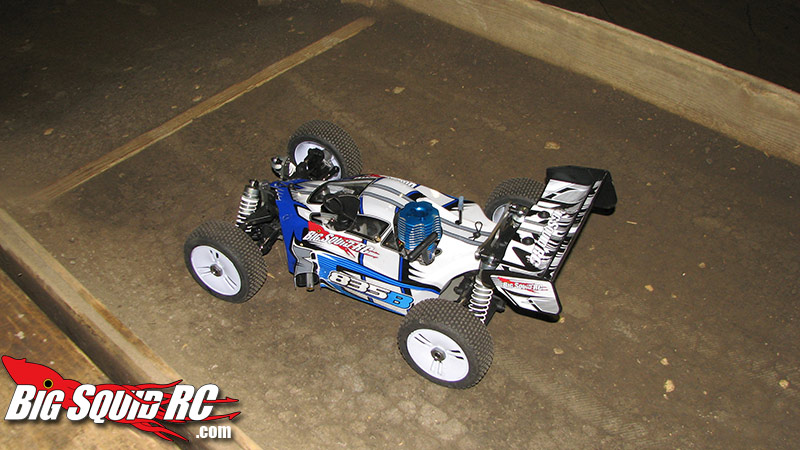 At some point in every RC hobbyists time line, they need to experience an 1/8 scale buggy. They drive like nothing else out there. We recently reviewed the Duratrax DXR8-E Electric Buggy, and now it was time to get dirty with the Duratrax 835B nitro buggy. Does it compare to the DXR8? Does it stack up against other nitro buggies? Most importantly, can it take a good bashing? Keep reading to find out..
From: Duratrax
Direct Link: Duratrax 835B Nitro Buggy
Specs- –
Scale- 1/8th
Kit or RTR- RTR
Drivetrain: 4WD
Power: Nitro
Engine: SuperTigre G-27CX .27
Radio: Duratrax 2-ch FTR (Futaba Transmitter Ready)
Length: 19.9″ (505mm)
Width: 11.9″ (302mm)
Wheelbase: 12.8″ (325mm)
Warranty- Duratrax 1 year stress tech
Street Price- $349
Needs: You are going to need fuel, transmitter batteries, and glow igniter batteries.
For all of our testing and break in, we used O'Donnell 20% Nitro Fuel.
Primary Competition– There are a LOT of nitro buggies on the market. Almost every manufacturer makes one. HPI, Associated, OFNA, Hot Bodies, Losi, you name it..
What's In The Box– Just about everything you need. The buggy with pre-painted body, transmitter, fuel bottle, receiver battery (plus charger) and a glow igniter.
Build Quality– Out of the box, the overall built quality was good. We didn't have any issues, or need to correct anything before we were off and running.
Test Drivers– Brian, Wrench (Bill).
Test Venues– Leisure Hours Raceway, Woodridge Jumps, streets, parking lots, skate park.
Set-up Notes– For our general bashing purposes, we didn't need to change much. The break-in process when smooth following the directions, and the engine has done a decent job of holding a tune.
Body: The stock body and paint look good. No issues here.
Suspension– The threaded aluminum big bore shocks handled everything we were throwing at the buggy. Pavement, ramps, the race track, we had no problem dialing in the feel we wanted.
Tires– The tires on the buggy are not any of the named Duratrax brands (the Electric Duratrax Buggy came with Posse tires) but they worked very well. We didn't experience any unusual wear, and on the track we had sufficient traction for 'stock tires'.
Handling: The buggy handled very well. In the air, in the rough stuff, and on the corners, we had no issues that stood out as notable problems. Once we had most of our standard testing done is when I gave Bill (Wrench) the green light to just start skying the buggy. At the track we went from cautious to keeping it pegged and just seeing how far we could jump, and for the most part the buggy was under control, and landing how we wanted it.
Power– The SuperTigre G-27CX .27 engine provided plenty of power. Our average top speed was 36mph, and we were pretty happy with that. It does not sound fast, but it's fast enough. There wasn't really a time when we felt that we needed more power. If this is your first nitro buggy, you'll be more than happy with the speed and torque. A high end .21 could get you a little more oomph but cost you the same price as the buggy.
Broken Parts– Amazingly enough we haven't broken a thing! Even after our testing, and extreme testing. Taking it out bashing over the last few weeks, and just getting crazy with it, it's still in once piece! By now even breaking a a-arm would of been the norm on any vehicle, but as of today, we have not replaced a single piece!
Misc Notes– The Duratrax 835B nitro buggy is very different than it's electric brother the DXR8-E. When we first got them both, we sort of expected them to be very similar, with just different power plants. That is not the case, and they are completely different. We have added a comparison gallery for you to check it out. The 835B has been so durable, Wrench is wondering if we can try and convert one to electric, just to see why Duratrax didn't go that route.
Interestingly enough, I personally wasn't driving it nearly as well as I was the Electric DXR8-E, while Wrench was laying down some serious laps. We chalked this up to reaction times and mid air control. The 835B nitro was smooth in the air, but you need to gas or break hard to make adjustments. Just coming off the DXR8-E testing, when your using a brushless vehicle, adjustments can be made much quicker and easier. Wrench lives and breaths (and possibly bathes) nitro, and he's got the skills that makes it look easy. He assured me the handling was me and my light finger, as he proved it killing me at the track portion.
Since testing, the 835B has been one of the vehicles Wrench always brings with to bash. Not only is he beating the heck out of it, but he's enjoying it. His biggest complaint is the pull start. With brushless vehicles being the 'hot' item, why not make life easier for the people who still want to run nitro? Give us a drill/roto start. Save our arms and fingers from yanking on that dang string.
The chassis has held up very well. Most buggies we hand off to Wrench come back looking like a taco, but so far so good. The body has also held up. The nose piece is even still connected.
Overall the 835B is a very good 1/8 scale nitro buggy. If you are looking to get into that genera, the price point is good, and the durability has been outstanding. In true Duratrax form, all parts are available, and in stock and most big online stores like TowerHobbies.
---
As with all of our stuff, if you see us at a bash, stop by and check out the vehicles we have with us. We may let you take a test drive, and at the very least get you some stickers!
SUMMARY
Time To Bash – 8.0/10 – It's a nitro, so you will need to follow the break-in process. It's always hard to resist gunning that trigger for the first few tanks!
Workability – 9.0/10 – The 835B layout makes things pretty easy to work on, and we haven't experienced any hang ups.
Car Show Rating – 8.5/10 – The looks are decent, and different. you'll stand out in a crowd, but we like that.
Bash-A-Bility – 10/10 – We honestly can't believe we haven't busted anything. We may just keep getting lucky, but it's been used and abused. The Stress Tech warranty is there if we needed it as well.
Fun Factor – 8.5/10 – It's not the fastest buggy on the market, but any time you can bash a vehicle and not worry about breaking it, you are having fun.
Handling – 8.5/10 – In the air, and on the ground the 835B hit the lines we wanted to hit, and took off and landed how we wanted.
Power- 8/10 – You might now win too many drag races, but the .27 engine was enough to make the big jumps, the doubles, and have fun doing it.
Value- 8.5/10 – You get a lot of vehicle for $349, plus a receiver that's Futaba ready if you are looking to ramp up in the near future.
Big Squid Rating – 8.6/10 – Tentacles.. Want to get into the nitro buggy class? Looking for a great basher and make some noise at the same time? The Duratrax 835B should be on your list.