DuraTrax Brushless ESC Programmer and DE10 ESC
We just got the new DuraTrax Brushless ESC Programmer and the DE10 Brushless ESC in the office, and thought I'd share a couple of unboxing pictures before we got beat up on these things!
I really dig the fact that the ESC can do Sensored and Sensorless, and it's pretty much drop in ready for your 1/10th scale vehicles. It was cool that it came with both a Traxxas plug already installed, and a DEANS connector if you were still a DEANS fan. (Which I am.. but slowly making the crossover)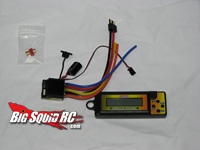 I like that the programmer isn't made out of cardboard, and isn't going to get crushed in my tool box! The screen is nice and big, and looks easy to use.
Watch for reviews coming soon!
Check out the DuraTrax web page for info.