DuraTrax Brushless Evader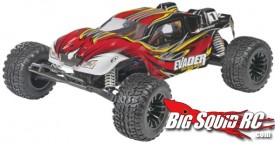 Way back in October we posted some Exclusive pictures of the new DuraTrax Evader Brushless. Well, we just received the official press release which means it's probably coming to a hobby shop near you soon!
The 1/10th scale Evader Brushless comes with a 2.4GHz transmitter made by Futaba! You know it's a quality radio, even if it's a pack in! It has a waterproof steering servo, and a Futaba FHSS receiver so you can use it with the 2PL, 3PL, or 4PL if you already have one of those! The brushless motor is a 3930kv motor with a waterproof 100A ESC! finally it has a waterproof radio box and a factory installed wheelie bar. And trust me, you are going to need that bar, it's not just for looks!
So a waterproof brushless Evader that will wheelie all day long for under $300! Sign us up!
Check out the Duratrax Website for more info!