DuraTrax DE10 Brushless ESC Review
From: DuraTrax
Direct Link: DuraTrax DE10
Review by Brian.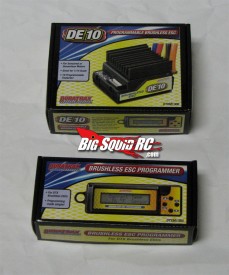 When we saw the DuraTrax DE10 brushless esc and programmer at the iHobby Expo we were pretty excited about all the features being talked about. The ESC is designed to run with all sorts of 1/10th scale vehicles, from on-road to off-road, the DE10 has you covered.

The ESC boasts a huge list of features! It can handle sensored or sensorless brushless motors down to 5.5 turns, it also works with brushed motors down to 4 turns! The idea being, if you have a RTR or a brushed motor you like, you can still run this ESC then upgrade to a brushless motor at anytime without worrying about needing a new ESC. It can handle all sorts of battery types including LiPO and LiFe. It comes with a Traxxas Plug and Deans Ultra plug depending on your needs, and for you racer types it meats ROAR Sportsman Racing requirements.
The ESC is programmable alone, but I have to recommend the Digital Programmer if you are thinking about buying this ESC. It makes life so much easier, I can't imagine using the ESC without it. With such a huge list of programmable features, the programmer is a must. Check out their webpage for a full list, but I believe it has the most programmable features of any ESC on the market right now. Since we feel they should be used as a package, we will be reviewing it that way.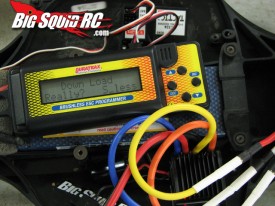 Since we recently tested the Castle Creations Side Winder SCT, we thought this motor would be a great test with the DE10. The install went very smooth. The ESC is pretty small, and fit well in our test vehicles. We tested in a HPI Blitz and a Traxxas Slash 4×4. Setup and calibration went as expected, and after setting up our battery and motor types with the programmer we were off and running.
Top speeds with our 2s LiPO setup were in the low 30mph range, and had some serious acceleration. The ESC had no problem powering the 4×4 to speed during our tests, and also did surprisingly well with slamming on the brakes.
At the track and at our bash locations the ESC held up very well under stress. It is winter, so the cold weather does offset some testing, but speed run after speed run as well as constant running pack after pack, the DE10 temperatures kept cool.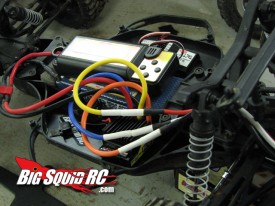 Using the programmer was very easy. It's nice that they didn't try to skimp out on the buttons or the screen. The LCD screen is big enough to give you all sorts of information without having to give you cryptic abbreviations of things, it's solid and does not feel like it's going to break in my hands or get squished when I toss it in the tool box. The programmer can also give you some run data like maximum temperature, and even speeds if you take the time to program in all the items needed like gearing and wheel diameter. Little features like this really add up to make a great package.
Overall we are pretty pleased with the performance. For all the features, the price isn't bad, but at the price point of $99 for the ESC and $24 for the programmer, there are some other options. That being said, this is a solid choice. As bashers, we would really like to see something like this be waterproof. Or at least claim to be waterproof. Lots of companies are hopping on that bandwagon, and the basher crowd is starting to expect that option. With a quality ESC like this, I truly expect a DuraTrax brushless motor to be coming in the near future. Lets hope the quality is in the motor as well.
Don't forget to check out our DE10 Unboxing photo's as well.
As with all of our stuff, if you see us at a bash, stop by and check out the vehicles we have with us. We may let you take a test drive, and at the very least get you some stickers!
SUMMARY
Time To Bash – 8.0/10 – Install, program and go. Without the programmer your going to need some more time.
Workability – 9.0/10 – TONS of options, and with the programmer it was very easy to use and setup.
Car Show Rating – 7/10 -It's small, and no bling factor. The Programmer is one of the nicer on the market.
Bash-A-Bility – 8.5/10 – Not waterproof, but has held up to our testing very well. It's quick, and easy to use.
Big Squid Rating – 8.0/10 – Tentacles.. It works well, it's easy to use (if you have the programmer), and held up to 2wd and 4×4 abuse. For the price, it has a TON of features but an included programmer would of been a nice touch, waterproofing would of been a plus.