DURATRAX DTX4600 NiMH PACKS with TRAXXAS PLUGS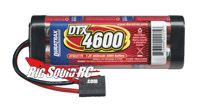 Ever since Traxxas decided to be different and create their own Dean's plug, people have had to modify their packs. While I think most RC'ers and Bashers just go ahead and cut off the Traxxas plug and add a Deans on there, there are still a few people who like to keep it simple. Well for those who like less work, Duratrax is here to help save the day. They have just released a few NiMH battery packs including 7.2v AND 8.4v 4600 stick and hump pack versions that come standard with the Traxxas plug! So if you are part of the electric Traxxas brigade (and that's most people in RC) then fear not, you won't have to show off your soldering skills.
The full press release is in the NEW Product Forum.