DuraTrax DXR 500 1/5 Scale RTR Motorcycle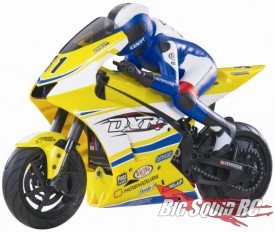 Aching to burn up a little pavement 2-wheel style? DuraTrax has the cure with their new DXR 500 1/5 Scale RTR Brushless EP Motorcycle. The flywheel gyro makes it easy for anyone to run at any speed while stile maintaining control. The bike comes with front air fork shocks, an oil-filled rear shock, and a brushless 3800kv motor with a lipo-ready ESC. You only need a battery as the 2.4GHz radio system comes pre-installed as well. The DXR 500 should be available anytime in four different colors for right around $400.
Hit the link to jump over to Duratrax and check out all the specs of this new pavement peeler.