Duratrax DXR8-E 1/8 Scale Buggy Review
The Duratrax DXR8-E 1/8 Scale Buggy Review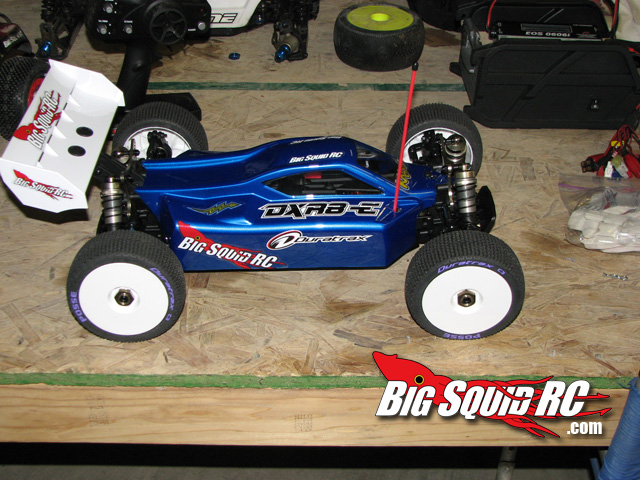 An 1/8 scale buggy has always been a great vehicle to have in your RC lineup. From durability to speed, big air and control, the buggy can always put a smile on your face. The Duratrax DXR8-E is an electric buggy kit. It comes as a rolling chassis that requires you to finish it off with your own electronics. So is the DXR8-E going to have a spot in our bashing stable? Keep reading to see what we think..

From: Duratrax
Direct Link: Duratrax DXR8-E Buggy
Specs- –
Scale- 1/8th
Kit or RTR- Kit
Length- 19 in (485 mm)
Width- 11.8 in (300 mm)
Warranty- Duratrax 1 year stress tech
Street Price- $349 for the kit without electronics.
What we used to finish the Kit:
Motor/ESC- Castle Creations Mamba Monster System
Steering Servo – Futaba S9157 Digital High-Torque Servo
Radio- Futaba 4PK
Battery – TrakPower 4S 5600 Lipo
Disclaimer: This DXR8-E is the second one we have tested. We originally tested a early pre-production version about 5 months ago, and found some issues. Since then, it looks like Duratrax has gone back, made some adjustments and fixes, and the full blown testing is of their latest/current production version of the vehicle.
Primary Competition– There are a lot of 1/8 scale buggies out there. HPI Vorza, Associated RC8.2e, Losi 8IGHT-E, Caster Fusion, Ofna, Mugen, to just name a few.
What's In The Box– The DXR8-E comes as a rolling chassis, meaning I can take it out of the box, and push it, and it rolls. You will need to supply all the electronics to make it complete. Many kits do not come with tires, but this one comes with Duratrax Posse tires.
Build Quality– The overall build quality was good. We didn't run into any major issues of things stripped out, or too loose. Make sure to tighten down those wheel nuts. We did re-glue a tire that broke loose. The final steps of the build are up to you. Take your time, and choose wisely while routing wires around, and installing the servo.
Test Drivers– Brian, Wrench (Bill), Cubby.
Test Venues– Raceworld Raceway (before it closed), Leisurehours Raceway, Woodridge Jumps, streets, parking lots, skate park.
Set-up Notes– Since this was our second time putting the buggy together, we chose not to route all the wires below the drive shaft in the chassis grove. For maintenance, it's just way easier and less time consuming than having to rip apart the drive train to get the wires in there. Our Futaba servo had more than enough throw in both directions that had the front wheels turning to their limits. Correctly setting the endpoints on the controller will keep the servo from being over stressed.
Body: The body does a great job of hugging the chassis walls and keeping out the dirt and debris. It's practically sealed! With that feature, the body is a bit of a pain to put on and off. While we didn't rip off the nose like in the old buggy days, we would of like to have seen a little more modern body attachment with a separate nose piece. We'd much rather deal with a little extra time with getting the body on and off though because keeping the rocks and junk out is a huge plus.
Suspension– The suspension was used and abused during our testing. We always start off small, but by the end of our testing cycle, we are launching these vehicles. Under normal running and track use, we noticed the buggy would bottom out and rebound pretty hard on a flat landing. A little thicker shock oil would slow down the up and down travel, and lesson the rebounding. Under our abusive testing, we did strip out several shock end ball cups. The threads on the shock shafts is pretty tight, and on some huge air landings we managed to strip them out.
We also tore or stripped a couple of ball cups on the tie-rods. Again this was under some serious stress.
Tires– The Duratrax Posse tires held up well, and showed normal wear after running on all sorts of surfaces. We did need to re-glue two of the four tires after a couple of bashing sessions, but this was nothing major or unexpected.
Handling: In the air, the buggy was easy to control, and flew great off the jumps. The DXR8-E always launched and flew level or slightly nose up allowing for easy adjustments before landing. On the ground the buggy did have a slight under steer which kept us from staying tight in the corners. Keep in mind the buggy is tested box/stock with very little adjustments being made. I think the steering could easily be dialed in as the camber links all had room for adjustment.
Power– The power our Mamba Monster system was putting out in the DRX8 was big. Our speed runs clocked us in at over 50mph! This was WAY more power and speed than most people would need or be able to use at a track. We had a little cogging with our stock gearing when starting from a dead stop, but slightly re-gearing for a little less top end should help with this.
Broken Parts– We really abused this buggy during our bashing sessions. Because of the way the chassis is built (in several pieces, not just one solid piece) we expected to be able to cause it some serious damage, but we did not. We really tried hard to snap apart this buggy, but the only parts we broke were ball ends either being stripped, or having the ball ripped out. We are very happy to report no major damage was done to the buggy.
Misc Notes– After our first encounter with the DXR8-E a while back, we were glad to see that Duratrax had addressed some of the issues we had. As with all of our vehicles lately, we set out to destroy the vehicle, and go home with it in a box of parts. Amazingly that didn't happen. We only suffered minor parts breakage along with a bent shock tower. (Which was easily fixed by Wrench and his.. well wrench!).
The buggy is being billed/advertised as a 'race winner'. Sadly, most racers would probably pass on the buggy because of the brand alone. There are not a lot of top racers packing a Duratrax. But for the person getting into the sport/hobby on a budget, the DXR8 is a good way to test those waters. And as we have proven again and again, if the vehicle is reliable, it's the driver that wins the race!
We like the way the body hugs the chassis, but a few people in the office were not fans of the look. Realism is hot right now, and the body on the DXR8 is not the trend.
We would of liked to have seen a larger front bumper to help protect things a little more.
In the end, I believe the DXR8-E has found a place in our current vehicle line up. It will be one of the vehicles we 'bring along' to have fun with at locations, and to continue to abuse while launching for that huge air.
---
As with all of our stuff, if you see us at a bash, stop by and check out the vehicles we have with us. We may let you take a test drive, and at the very least get you some stickers!
SUMMARY
Time To Bash – 8.0/10 -You are going to need to install a servo and motor/esc system.!
Workability – 8.0/10 – The DXR8-E isn't too bad to work on. Just don't run all your wires under the drive train and you'll be fine.
Car Show Rating – 7.0/10 – The chassis hugging body is a nice feature, but overall it wasn't winning anyone over in the looks department.
Bash-A-Bility – 8.5/10 – The Stress Tech warranty is always good to have as a backup. We really tried to take home the buggy in 2 halves, but couldn't make it happen. Just a few stripped rod and shock ends.
Fun Factor – 8.5/10 – We had plenty of power at 50mph, and the ability to go big when we wanted without worrying too much about damage on the landing. It was easy to control, and we didn't have to fear the big ramps.
Handling – 8/10 – The buggy handles great in the air, it launches how we'd expect it to, and dialing in the landings was easy. Our turning could use some tuning, but we don't think it's a lost cause.
Power- 9/10 – Our Castle Creations Monster system had people running for their lives. Getting to 50mph quickly was a nice surprise, and the drive train was able to handle the power.
Value- 8/10 – When you add in a good brushless system and servo, your price goes up quick. The base price is at or below most other buggy kits on the market.
Big Squid Rating – 8.1/10 – Tentacles.. If you are looking at a 1/8 electric buggy, the Duratrax should be one to consider. Their excellent support and parts warranty will bring it to the top of the list.