Duratrax Evader Brushless Review
The Duratrax Evader Brushless Review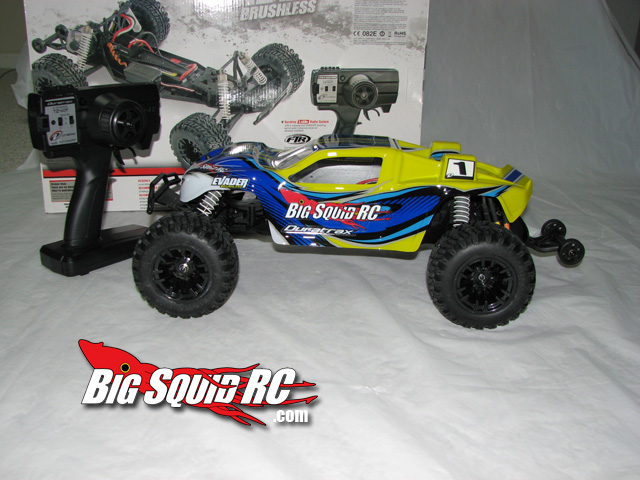 We first set our eyes on this truck at a private viewing in the Hobbico offices back in October. It was put on the table in front of us with a 'what do you think?' and at first glance there was a lot of truck that we were looking forward to. From brushless to waterproof, it had what we were looking for in a new Evader, lets see if it stood up to our expectations….
From: Duratrax
Direct Link: Duratrax Brushless Evader
Specs- –
Scale- 1/10th
Colors- Red, Blue, Yellow, Black
Kit or RTR- RTR
Length- 470mm
Width- 325mm
Motor- 3930kV Sensorless brushless
Speedo- 100A waterproof brushless ect
Radio- Duratrax 2.4Ghz FTR radio by Futaba (Compatible with 2PL,3PL,4PL)
Bearings- Full set
Waterproof- "Waterproof" electronics
Weight- 1633g
Warranty- Duratrax 1 year stress tech
Misc- Wheelie bar installed
Street Price- $249
Primary Competition– Thunder Tiger Phoenix XT Brushless, ARRMA Vortex, Traxxas Rustler, Associated RC10T4, Losi 22T and any other stadium trucks.
What's In The Box– The truck comes RTR including the wheelie bar already installed. All you need is a LiPo battery, and four AA's for the transmitter. A plus is that it already had a Deans connector on the ESC. Another note, Cubby is always yelling at me, about vehicles with on/off switches. Most of the time, the moment I turn around, he will snip the switch off with a 'Aww.. guess you'll need to just directly wire that.. oops'. So he was happy to know there is NOT an on/off switch setup on the Evader Brushless.
Build Quality– The truck was completely drive-able out of the box. Nothing was stripped or over tightened. See setup notes for comments on servo saver.
Test Drivers– Brian, Wrench, Cubby, 3DBill
Test Venues– Neighborhood cul-de-sac, streets, parking lots, Raceworld Raceway.
Set-up Notes– We quickly noticed the servo saver was set to as weak as possible. As soon as it was rolling you wouldn't have enough power to do a turn in under a 20 foot radius. So do yourself a favor and give that thing a little more tightening. The saver system on the DTX Evader is very easy to get to, and it turns with just a finger. We would also recommend centering up your steering trim on the radio and re-seeding your steering servo horn so you start out with a neutral setting. Our truck needed to some heavy trim to go straight out of the box, nothing a quick re-seed didn't fix. We used several different 2S Lipo packs and they all fit well including the Onyx 5000mAh hardcase batteries.
Turning– As mentioned above, you may need to tweak the servo horn and servo saver. We very quickly went from major understeer to serious oversteer with our adjustments. We are happy to report that the steering servo was strong enough to give us the muscle we were looking for. There are plenty of tuning options with camber and toe-in/toe-out to dial in what you want.
Suspension– The stock suspension wasn't bad out of the box. We were not 'bouncy' on the landings, and the springs were strong enough to keep us from slamming too hard on our pavement landings.
Tires– The tires were not ideal for the hard packed clay surface of Raceworld Raceway, but they were great for bashing anywhere else and outside. The treads held up well to sliding them all over the street. There was minimal wear after many sessions on all sorts of surfaces.
Power– The Duratrax Evader Brushless has PLENTY of power. That installed wheelie bar was getting a serious workout. You had no problem lifting and keeping the front wheels off the ground. We were seeing speeds of 40+ mph on the radar gun which is MORE than enough for any basher running a stadium truck. We had enough power to clear some big jumps at the track, and get some huge air on the street.
Radio– The included Duratrax radio was average with your RTR vehicles. The big PLUS here is that the receiver is Futaba Transmitter Ready (FTR) meaning you can take your higher-end Futaba radio and bind right up the the truck. We REALLY like this feature. It's still a RTR for someone who does not have a radio already, but for those of us with better equipment, it's ready to go!
Broken Parts– During normal driving under normal conditions we didn't have any broken parts. Once we really started to beat on it, we ended up with two broken parts. The first was a rear hub. This is a Stress Tech part, so no big deal because Duratrax will replace it. But it's also a good excuse for us to upgrade to aluminum! There are a lot of Evader hop-ups that are available for this vehicle already, so we may take the time to do so. We also cracked a rear rim. Normally there is a washer, or a nut with a lip, but the Evader does not have this. So during one of our serious tumbles, we bent a rim at some point and cracked it right at the nut.
Best Mod Under $5– Different wheel nuts. This truck has some serious power and you can easily start bending and torquing all sorts of parts.
Best Mod Over $5– For the track you will probably want some different tires, but the included ones are great bashers. Going with a better Futaba transmitter will also help you dial in this truck.
Misc Notes– As always, Duratrax knocked it out of the park with their manual. They always do a great job of explaining things. Their exploded views are easy to read/navigate which can be important to anyone. The power on this truck is no joke. It has some serious speed for the price. The 1 year Stress-Tech parts warranty is always welcomed. Duratrax has done a good job of upgrading the RTR Evader platform with the brushless system. Jumping all sorts of stuff, from bike ramps to triples and table tops was smooth. The truck handles well in the air and isn't nose heavy at all. We were always nice and straight. Having a lot of hop-ups available already is nice! There are a LOT of vehicles that do not get the aftermarket love.
---
As with all of our stuff, if you see us at a bash, stop by and check out the vehicles we have with us. We may let you take a test drive, and at the very least get you some stickers!
SUMMARY
Time To Bash – 8.0/10 -Tighten your servo saver, check your trim, install some batteries and go
Workability – 9.0/10 – The Evader line is about as easy to work on as it can get. Everything is simple to get to.
Car Show Rating – 8.0/10 – The paint job and body are ok for a RTR, but nothing to write home about.
Bash-A-Bility – 8.5/10 – The Evader was able to handle most of our bashing tests. The Stress Tech warranty is nice to have.
Fun Factor – 8.5/10 – Out of the box, high mph is fun! It jumps well, and the wheelie bar is used often.
Handling – 8.0/10 – Handling is ok. There are a lot of tuning options to get you dialed in.
Power- 9.0/10 – There is more power than most people know what to do with.
Value- 8.0/10 – There are a few cheaper stadium trucks, but a few more expensive as well. Its fast and durable which keeps the value up.
Big Squid Rating – 8.3/10 – Tentacles.. The Evader Brushless is quick, it's fun, and pretty durable. With the great support from Duratrax, this one should be considered if you are in the market for a stadium truck.
Don't forget to check out the Evader Brushless Unboxing photos if you need some more pictures.