DuraTrax Evader DT Week: Painting and Detailing – Part 2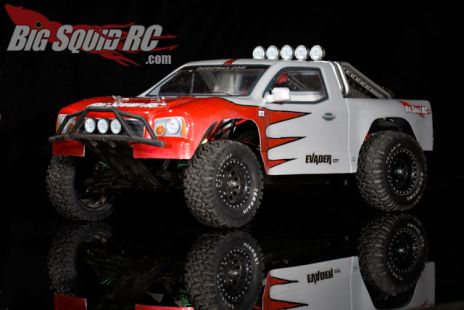 Day 6 is the last build day of DuraTrax Evader DT Week. I'm finally getting around to doing my custom paint on my DT. The pre-trimmed, pre-drilled clear body from DuraTrax (Part DTXC6218) looks great and is easy to paint. There's not much more to say about this one, I'm certainly no artist, but I like the way it turns out in the end. As I say in the video, this week long feature hasn't just been about putting hop-ups on the Evader DT, it's also about taking the time to make your truck truly yours, and not just another off-the-shelf RTR. So get out there and get to customizing, no matter what kind of car or truck you have.
If you haven't already done so go read our review of the Evader DT. As a quick recap, on day one I installed a full set of DuraTrax's hard anodized shocks, day two saw me installing a few chassis mods with some aluminum parts and the graphite chassis, on day three I put a full set of ball bearings in the truck and an aluminum idler gear in the transmission, and on day four I installed a Castle Creations brushless system and Futaba 4PK radio gear. Day 5 was the beginning of the end, I took the time to clean up and paint some of the detail pieces that are on the body. To follow this feature week just bookmark this link. For a full list of optional accessories that are available for the DuraTrax Evader DT be sure to check out the DuraTrax web site.