Duratrax Evader EXT2 Review
From: DuraTrax
Direct Link: DuraTrax Evader EXT2
Review by Brian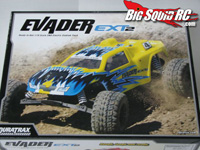 A while back we got our hands on the DuraTrax Evader EXT2 RTR Stadium Truck. As with all things DuraTrax, we knew a torture test was going to be a must, and we looked forward to finding new ways to see if we could get our new truck to surrender. Did it ask for mercy, or taunt us a second time? Lets find out…

Included with the EXT2 are a Tactic 2 Channel radio, Photon Speed 2 motor with Sprint ESC, a full set of ball bearings, metal shock caps, and of course the DuraTrax Stress-Tech Guarantee in case you happen to break any key components.
The Evader EXT2 is aimed at new people that are looking for a cost effective and durable way to get into the RC hobby. You can find the vehicle just about anywhere at $119 or less and most hobby shops even stock many of the parts, and that's a huge plus when you are looking to buy a new vehicle! If you can't get parts, all you have is a broken model.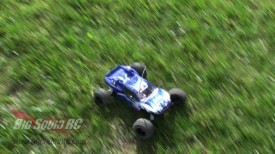 You probably aren't going to be buying a Evader if you are planning on hanging out in your backyard or street, but if you have a local track or even a nice dirt lot you can make a few jumps in, the Evader is a good starter vehicle. It has several adjustments for dialing in your suspension and the motor/esc has plenty of speed for a new racer to learn the basics of the hobby while keeping them out of any serious trouble.
Similar to the way we beat on the Evader DT, we pushed the vehicle hard with several scenarios. We took it to the track where it handled well right out of the box. It wasn't overly nose heavy, and it took the jumps smoothly. We ran it pretty hard, battery pack after pack without any issues or breakage.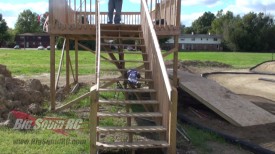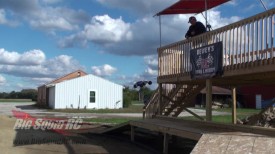 We then started to dish out the pain tossing it multiple times off the drivers stand, driving it down the stairs, jumping it off the stairs, and everything in between! The tough DuraTrax MagnaFlex parts were doing their job and letting us drive away from everything dumb thing we did. Well, except for one. Like we did in the Duratrax DT test, we decided to see if it could handle the 'brick wall' test, where we drive the vehicle full speed into a solid wall. The DT has a huge soft front bumper that was able to absorb the brutal impact, the EXT2 does not have much of a front bumper at all. Needless to say, we didn't drive away from that test as the impact busted a couple of front end parts. How often do you drive full speed into a brick wall, not many, so the fact that it was able to survive all of our other insane tests still ranks the vehicle pretty high on the toughness scale. The lack of a front bumper just means don't play chicken with objects bigger than you are!
The Evader EXT2 shares a lot of parts with the original Evader as well as the Duratrax DT truck which gives it a ton of available hop ups out there for those of you wanted to add a little more durability or bling.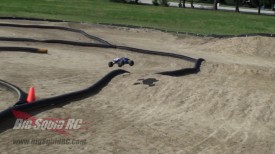 Overall the DuraTrax Evader EXT2 is a good, economical started vehicle if you are looking to get into the hobby. It is backed by a great warranty, lots of hop-up parts, and excellent customer service if you find yourself in need of some help.
Make sure to check out all the unboxing photos if you need some more pictures!
As with all of our stuff, if you see us at a bash, stop by and check out the vehicles we have with us. We may let you take a test drive, and at the very least get you some stickers!
SUMMARY
Time To Bash – 9.0/10 – Install some batteries and your ready to go.
Workability – 9/10 – The truck is easy to work on, the instructions are good and there are plenty of hop-up parts.
Car Show Rating – 7/10 – It's not a real head turner, but it's not a bad looking vehicle for a stock truck. .
Bash-A-Bility – 7/10 -The lack of a front bumper can put a crimp in your style, but the rest of the vehicle can take a good beating.
Big Squid Rating – 8/10 – Tentacles..As a vehicle geared towards new hobbyists, it's a tough and upgradable truck if you are thinking about hitting a track in your future.