DuraTrax Evader EXT2 – RTR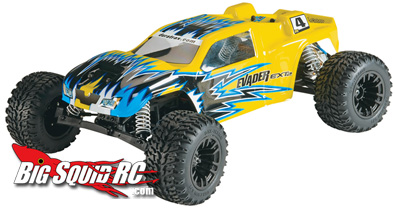 Recently we posted our DuraTrax EXT2 Exclusive Spy Shots and now we finally have the actual press release details and official photo.
The DuraTrax Evader EXT2 will be RTR, has the MagnaFlex chassis to make it extra tough, a complete ball bearing set, new precision metal idler gear, and uses the Sprint ESC system. There are plans for plenty of hop-ups based on the original evader series so it's cool to see the truck will be supported in that respect.
We look forward to getting our hands on one soon, and beating the heck out of it for your viewing pleasure .
Get more info at the DuraTrax web page.