Duratrax Multi-Driver Review
The Duratrax Multi-Driver Review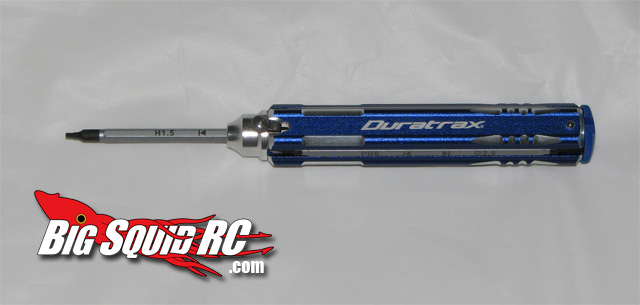 From the moment we got the official press release, several people around the office claimed this was a must have tool! We finally got ours in and have been putting them to the test. Is the Multi-Driver everything we wished for? Is it the last tool you will ever buy? Keep reading for our thoughts and experiences…
From: Duratrax
Direct Link: Duratrax Multi-Driver
Specs- –
Stores 6 different bits with 2 different tips on each, for a total of 12.
0.5mm hex
5/64″ hex
1/16″ hex
3/32″ hex
1.5mm hex
2.0mm hex
2.5mm hex
3.0mm hex
1.5mm flat
2.5mm flat
00 Philips
0 Philips
Street Price: $19.99
Primary Competition– Any other 10+ hex driver set. There are a lot of choices out there, and they go from cheap to insane.
What's In The Box– Like the specs say, you get a durable anodized handle that stores and allows you to swap the 6 pieces with 12 different tips.
Build Quality– The overall quality of the tool is good. If feels good in your hand, and you can tell it should be durable. The tips have held up so far, but when compared to extremely high end tips, they don't appear as 'squared off' as the more pricey stuff. After a long amount of use, wear could be an issue. If we do notice anything we will update accordingly.
Test Users– Brian, Wrench, Cubby
Test Venues– Several workbenches, bash spots and pit areas.
Testing Notes– During our testing time we had a variety of vehicles that needed work, so there was no shortage of testing. There were pluses and minuses while testing. We really liked the ability to quickly change the length the tip sticks out allowing for some extra torque when needed. Being able to make the length shorter really helped loosen some tough fasteners that wouldn't be so easy with a standard driver. We ran into a vehicle that had screws recessed inside a area of a chassis that we couldn't use the tool on. Because of the thicker width of the individual shafts, it was too large to fit where a standard driver had no problems. This is a rare occasion, but it did happen to us. When sitting on at the work bench, it's easier to be able to just grab the correct driver, instead of removing a shaft, inserting the new one, and then replacing the old one. In the field, or the bash spot, it was great to not have to bring 12 different drivers in a tool box or pouch. Everything we needed was in one easy to store tool.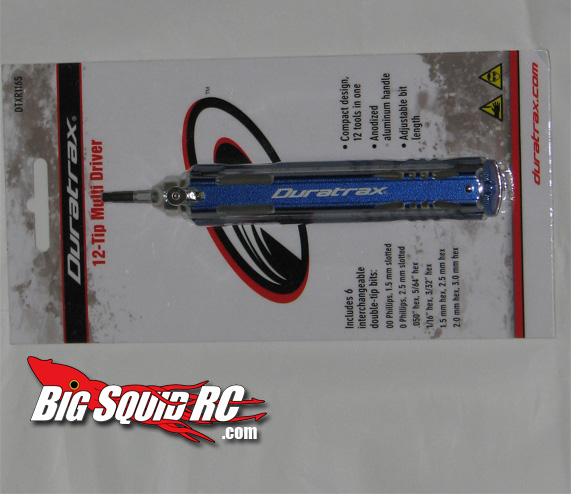 Overall Thoughts– The Duratrax Multi-Driver is a great tool to have in your arsenal. It's a awesome travel tool when you want to carry light and just get out to the bash spot. Carrying the same amount of normal drivers would cost much more as well as take up a lot more space. And then there are those times where you left the one you need on the work bench! As long as you are good about always putting away a shaft when you bring out a new one, you will never have this problem. At the work bench, we found ourselves going for our array of drivers because it was slightly quicker when you don't know what size you need, but not everyone has full sets of drivers already. The Multi-Driver has earned a place in my tool box, and is always with us when we go bash.
---
As with all of our stuff, if you see us at a bash, stop by and check out the vehicles we have with us. We may let you take a test drive, and at the very least get you some stickers!
SUMMARY
Time To Bash – 8.0/10 -Swapping bits isn't to bad, but it's slower than having all the drivers in front of you.
Workability – 9.5/10 – Everything you need is at your finger tips.
Car Show Rating – 9.0/10 – Looks good, kinda blingy.
Bash-A-Bility – 10/10 – Haven't broken it yet. It's durable and made very well.
Handling – 8.0/10 – The ability to shorten the shaft to get some extra torque is nice. There were situations where it didn't fit the space, and a regular driver was needed.
Value- 9.5/10 – Buying 12 drivers will cost you at least $40 unless you get those really cheap L-shaped ones, and even those aren't cheap for all these sizes.
Big Squid Rating – 9.0/10 – Tentacles.. It's an ideal tool when you want to travel light, and a cost effective way to get 12 drivers.