DuraTrax MX450 Brushless Dirt Bike!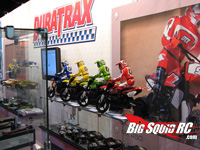 Breaking iHobby Expo News! Guessing at the name on this one, but I think it's the DuraTrax MX450. The video of this off road dirt bike in action was pretty cool! The fact that it's brushless, AWESOME! Looking forward to bashing the heck out of one of these! Will get all the details when the show opens.
Remember, where to get your iHobby news first! This iHobby Expo 2009 link will get you all the 2009 updates as we post them! So keep an eye on it.