Duratrax Onyx 150 LiPo Charger Review
The Duratrax Onyx 150 LiPo Charger Review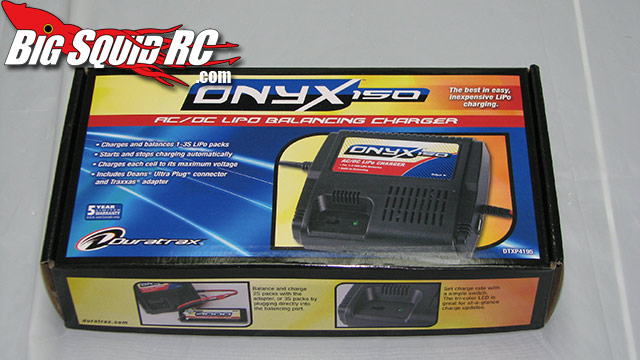 We get a lot of emails asking about chargers. We normally tell people to check our our Charger Shootout to at least get them started for some ideas on what to look for in a new charger. Some people are on a serious budget, or are just new to the hobby and want to keep the costs low while keeping it simple, and that's where the new Duratrax Onyx 150 comes in. Is this the ultimate entry level lipo charger? Keep reading…
From: Dynamite RC
Direct Link: Duratrax Onyx 150 Charger
Review By: Brian
Specs- –
AC Input: 110V 60Hz, 50W
DC Input: 11-15V, 50W
Battery Type: 1-3 LiPo cells only (3.7-11.1V)
Battery Capacity Range: 100-7500mAh
Fast Charge Current: 1.5A, 3.0A, and 5.0A
Fast Charge Termination: cc/cv (based on 3.7V cell)
Output Connections: Includes a Deans Ultra Plug male connector, Traxxas adapter and universal radio jack Input Connections: Attached AC lead and detachable DC lead with alligator clips
Balancing Connector: Duratrax 3S with 2S adapter
Protective Devices: 90 minute safety timer, cooling fan, reverse polarity, and current overload circuitry
Dimensions: 5.3 x 5.0 x 1.9″ (133 x 127 x 48mm)
Weight: 12.6oz (356g)
Street Price: $54
Primary Competition: Radient Ascent, Dynamite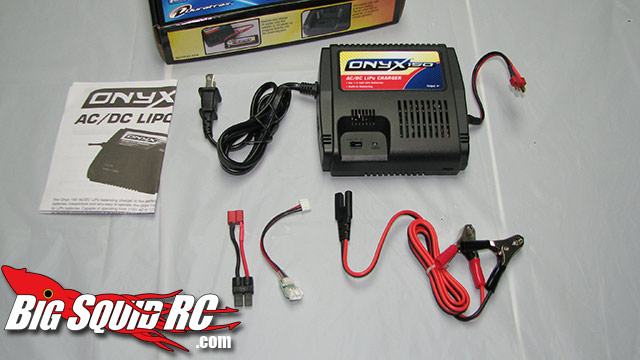 What's In The Box: The Charger, 2S Balancing Adapter, Deans to Traxxas Connector, Alligator Clips for DC Charging.
Build Quality: Very good. The box feels sturdy, and durable.
Test Drivers: Brian, Wrench
Set-up Notes: The fact that it comes ready for both Deans and Traxxas is a nice touch. Normally we are cutting off and soldering ends on to get the charger set up the way we want. This one needed nothing.
Ease of Use: Normally we try to test and operate these things without looking at the manual at all, just to see if we can figure it out. I have to admit, we cheated on this one. Not because it was complicated, or we couldn't figure out what to do, but because it's so simple, I wanted to make sure we didn't over think it. There is no screen, not much in the data department, just a LED and a switch to change the charge rate. You literally plug the charger into the wall, pick a charge rate, and plug in the battery. It just go's. There is no start button, no stop button. When the battery is charged, the red LED flashes and it beeps for 10 seconds. It really does not get any simpler.
Power: Maximum charge rate is 5A. It's not going to set any speed charge records, but it's enough to charge 2s and 3s lipos, and that's about all anybody new to the hobby really needs.
Broken Parts/Issues: None. This thing has been carried around, shoved into pit boxes, dropped off pit tables, and we are still running with no problems.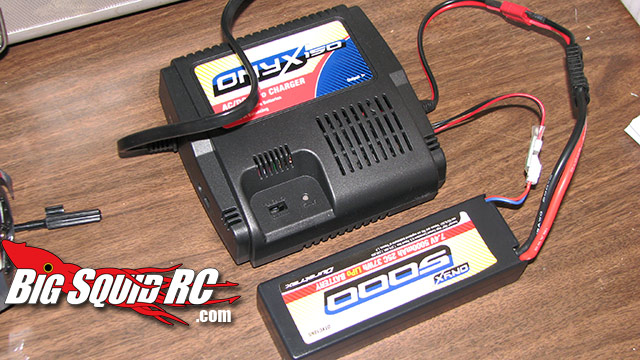 Quality Of Balance:
Cubby has been hogging the West Mountain CBA for a project he's working on, but we were able to test that the charges does a good job of balancing the packs. We took all sorts of packs that we have been beating up around the office that were pretty out of balance, and each time we'd check the pack after a charge, the batteries were always balanced spot on. The manual points out that it is VERY IMPORTANT to plug the battery into the balancing port when charging, and we can assure you it's working.
Misc Notes:
The fan is nice and quiet, and the simplicity of the charger is a nice change. There's no setting to really worry about, just plug in and wait. Charge times were average compared to other chargers, nothing stuck out as an issue. It's a little weird not having a 'start' button, but you will get used to this after a few uses.
We didn't run into any issues that needed it, but knowing the 90 minute safety shut off was there just in case was good.
The charger comes with a 5 year warranty, which is a long time for a charger.
Having all the connectors we needed in the box, including the alligator clips for DC charging really makes this a great starter charger, or even one for experienced hobbyists looking for something simple they can toss in their tool boxes when they hit the road.
The manual is well written, easy to understand, and contains all the information you need to know in just a couple of pages.
Downsides:
The only downside is the lack of any type of data screen. It would be nice to look over at the charger and see how many milliamps it's charged, or get an idea of how much longer it's going to be till it's finished. Not a huge deal, and again, this charger is all about keeping it simple.
---
As with all of our stuff, if you see us at a bash, stop by and check out the vehicles we have with us. We may let you take a test drive, and at the very least get you some stickers!
SUMMARY
Time To Bash – 9.5/10 – It's ready to go out of the box, and had everything we could possible need to get going.
Car Show Rating – 8.0/10 – It's not a head turner in the looks department, but it's good enough for what it's meant to be
Bash-A-Bility – 10/10 – There isn't much that could break on the charger. It's taken it's fair share of abuse, with no problems.
Power – 7.5/10 – With a max charge rate of 5A, it's not the most powerful charger you can buy, but it does not really need to be.
Value- 9.0/10 – At $54 it's tough to beat. It's durable, and comes with everything you need.
Big Squid Rating – 8.8/10 – Tentacles..The Onyx 150 is a great entry level charger. If you are looking to make the jump to LiPo, or if you are just looking for something cheap and reliable for your pit bag, the Onyx 150 is a good choice.