DuraTrax Performance Tires in New Compound and Color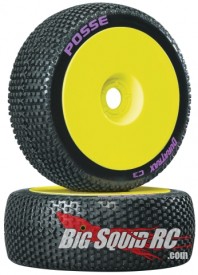 DuraTrax has some new tires and a new wheel color for your 1/8 scale buggy. The new C3 "Soft" compound tire was developed for exceptional grip and is available in four different tread styles (Lineup, Posse, Shotgun, and X-Con). You can choose either mounted or unmounted options. To top it all off, the entire line of DuraTrax performance tires can now be mounted on yellow wheels, which are also sold separately. I can't lie, I really like the names of those tread types.
The mounted tires come in around $25 for two, while just the rubber comes in around $17 for a pair and should be available early April. Visit DuraTrax to see more!