DuraTrax Pit Mats Available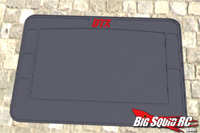 We talked about the DuraTrax Pit Mats a while back at iHobby, and just wanted to mention it looks like they are shipping any day now for those of you looking for a new mat to pit on. They are made from a durable rubber type material that are resistant to fuels and solvents. There are two sizes available, the larger 29″ x19″ for vehicles and the smaller 5″ x 5″ to keep your parts from rolling away.
Check out the DuraTrax web page for info.