Duratrax Posse Short Course Tire Review
THE Duratrax Posse Short Course Tire Review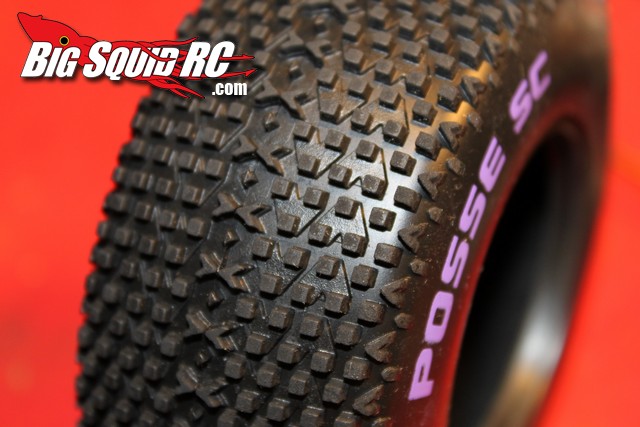 I can't tell you how many noob bashers I've seen at the local track that are sliding all over the place (read- crashing a lot) but can't understand why. Most of the time these bashers can wheel pretty good, yet they leave the track feeling like they are the worst drivers in the world. But… truth be told, most of the time, their issues at the track are a whole lot more about their tires than their driving ability. You see, big-lug stock RTR tires work great on grass and pavement, but can offer next to no traction on a hard-packed rc track. I can assure you, if you have no traction, you aren't going to have any fun down at the local track.
A simple switch to the proper track tires can change a day at the track from horrible, to feeling totally dialed. Today we'll be taking a look at the Duratrax Posse SC Tires in C2 compound. Can they help change your day around? Lets find out…
From: Duratrax
Direct Link: Posse SC C2 Compound
Review By: Cubby
Pics By: Cubby
Specs:
Part #: DTXC3794
Fits- Most short course truck rims, front and rear.
Street Price: $18 per pair
What's Needed To Complete Install: New wheels and some Bob Smith thin CA glue
Build Quality: Tires looked of good quality and the closed cell foam inserts looked top notch. Tires came in a zip lock bag just like all the premium tires do.
Test Drivers: Cubby, Brian, Tim
Test Venues: RC Outlaws in Collinsville Illinois, St Louis Dirtburners
Set-up Notes: I installed the Duratrax Posse SC's on our Durango DESC410R 4wd short course truck. Speedo was a Castle Mamba Max SC, motor was a Castle 1410 four pole 3800, radio system was the venerable Futaba 4PL, and we used TrakPower 2S 5400 Lipo's to power the whole show.
Performance:
Street: Because these are a small pin tire intended for prepped dirt surfaces, it is in your best interest to keep them off of pavement (if you want them to live very long). We did minimal driving with them on pavement for that very reason. From the half-a-pack we did drive them on pavement they provided very good traction. If you do a lot of your bashing on pavement skip the Posse's and give the Duratrax Bandito's a look.
Dirt: Prepped dirt tracks are what the designers had in mind with their Posse tires, and that's exactly where we spent the majority of our test time. So… the big question is, the Posse's are a budget tire, exactly how do they stack up against the big names? After testing I can say they stood up very well. Do they offer the raw traction of a comparable Pro-Line? No they do not, but they aren't as far off as you'd expect from the price difference. I have personally seen our resident go-fast guy win local races with the Posse SC's, and after I got a chance to wheel them, I can say they do indeed offer good traction on hard packed tracks. Like any small pin tire you don't want to get out in the fluff (like most every small pin tire, they have very little traction there), but if you stay in the groove the Posse's deliver good traction. If you are a basher you'll be amazed at how much more side and forward bite the Posse's have over your typical stock RTR tires on hard packed dirt. These are not the tires you'd want to take on Ty Tessman for a ROAR national title, but they are more than up to the task of local racing and bashing.
---
As with all of our stuff, if you see us at a bash, stop by and check out the vehicles we have with us. We may let you take a test drive, and at the very least get you some stickers!
SUMMARY
Time To Bash – 8.0/10 -Bust out some quality CA glue, give the glue some time to dry and you are ready to rock.
Car Show Rating – 7.0/10 – Some guys loved the purple lettering on the sidewall, others not so much.
Bash-A-Bility – 8/10 -We didn't experience any issues with the Posse SC tires. No missing knobs, no rips or tears, and wear was better than expected.
Fun Factor – 8/10 – More traction equals more fun and the Posse's deliver good grip.
Value- 8/10 – The Duratrax tires give good traction at a reasonable price point, thus representing a good value in our eyes.
Big Squid Rating – 7.8/10 – Tentacles.. There are some "budget" tires on the market that totally suck and are not worth the money. However, the Duratrax Posse SC tires performed well for us, if you are looking to save some bucks and still have good traction I highly recommend them.