DuraTrax Street Force GP 2 Review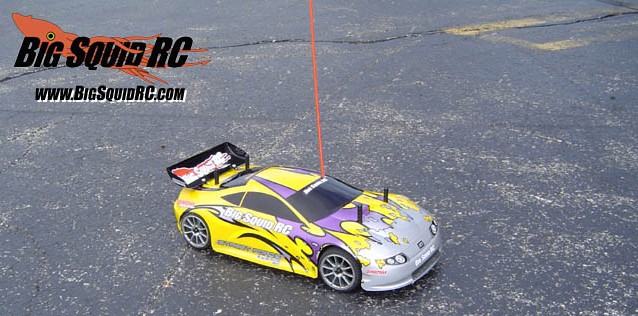 From: DuraTrax
Direct Link: Street Force GP 2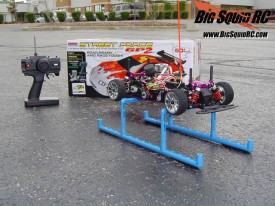 As a basher, I don't really do a lot of on-road racing, but I do like to tear up a parking lot whenever I get the chance.  It was time to see if the Duratrax Street Force GP2 could handle some parking lot bashing!
The kit comes RTR with everything you need to get up and running quickly.  All you need to do is install some batteries and add some fuel.  For fuel I went with my standard O'Donnell 20%.  When I went to install the batteries, I was surprised to find that I had to loosen a few screws to be able to remove and install the battery pack.  At first I was a little concerned about this, since if you are running a 4AA pack, you know you want to change them often, and quickly.  After the first run, I decided to pull a Duratrax hump pack from one of my other vehicles, and install it in here.  It fit like a glove, and I was much happier!  If you are going to pick one of these up, spend the extra $20 or so and get yourself a 5 cell pack!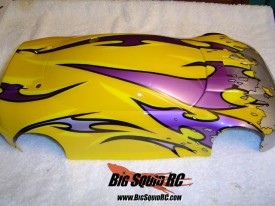 One of the first things you will notice when you open the box is the awesome paint job!  It is by far my favorite paint job for any stock vehicle I have owned.  I wish more companies would follow this path, and give you a nice paint job out of the box!  It's nice to get a RTR car, and not think 'looks like I need to find a new body'.
Another nice touch from Duratrax is the nitro DVD they give you.  It covers all your basic starting/stopping and tuning needs, and it is a good help for all those people looking to get into nitro.
The general details are as follows: Ball Differentials, Composite Disk Brake, Rapid-Tune Turnbuckles, 2-Speed Transmission, Pro-Line tires and wheels, Oil-Filled shocks, Anodized Aluminum Chassis, Aluminum Shock Towers, Front CV Drive Shafts, Complete Ball Bearings, and a 3 Belt Drive System.  Whew! It's off to a good start to say the least.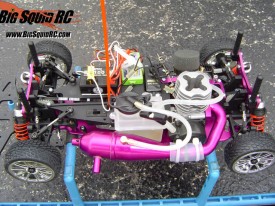 Besides the body, one of my favorite things included in this RTR is the engine!  It's listed as a DTX 18, but it's really a O.S. in disguise!  I'm a big fan of O.S. engines, and this one lives up to the name.  It's been easy to start every time, and holds a tune well.  The engine pumps out a ton of power, and is really a great addition to this car.
After the break-in process, it was time to set up a little parking lot track and put this thing to the test.  Since we would be racing in a public parking lot that sees a good amount of traffic, I installed a fail safe.  There's a great spot for it just above the battery storage.  Sadly, when the fail safe kicked in, and stopped the car, I ignored it, and got it up and running again, only to have a run-a-way!  The car took off at top speed flying around the lot, and finally coming to a stop by hitting the tire of my real vehicle.  OUCH! Lesson for all you out there.  When the fail safe kicks in, pay attention to it!  It's the reason it's there!  It turns out that the fail safe I used wasn't compatible with some AM radios, and this happen to be one of them.  At least this would give me a chance to do some wrenching on the car.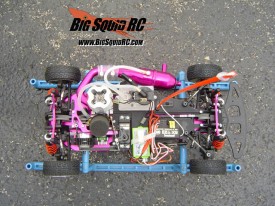 As luck would have it, almost all the parts that broke on the impact were covered by the Stress-Tech Guarantee!  Another reason to go with Duratrax if you are looking to get into RC! Duratrax has a great help-tech team, and the new parts arrived quickly!  Most of the parts that broke were in the front end, like the bulkhead and the bumper.  Bulkheads can be a real pain on some cars. It's usually messy and a ton of work.  To my delight it was a quick and easy repair on the Street Force.   The front end is really laid out well, and everything is simple to get to.
After the repairs were done, and the fail safe problem solved, it was time to put this thing to the test!  So we set up a track in our rough parking lot, and I invited Neil to bring out his new on-road racer.  He just bought it from someone that used to actually race on-road.  I won't give the type, but it's one of the top on-road cars and was using a very expensive racing engine.  After several warm up laps we were racing around the track, and the Street Force had no problem keeping up and passing his 'pro-racer' on several occasions.  The Duratrax was just as fast, and just as able.  The only problem I had was traction.  It does come with Pro-Line RoadRage tires, but they were not really doing well in our rough parking lot.  While his were gripping on every turn.  I had to let off the throttle into the turns, but the acceleration out was just excellent.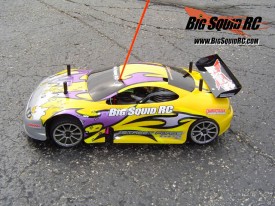 The box claims that the car will do 50+ MPH and I would definitely agree to that statement. It's very fast.  I'm really looking forward to the opening of the new on-road track here this summer, and might even have to sign up for a race or two.  Most likely though, I'll be using it for my normal parking lot bashing, and maybe take it to a few drag race events.
There are a bunch of new hop-ups for the Street Force now, including some graphite! They have all sorts of gearing, and other parts as well.  Something I may look into soon is the Rear Stabilizer bar.  They also have a conversion to make it a single speed! I'm not sure why, but if it makes it faster around the track, super!
To wrap things up, I was very pleased with the car all around.  It was easy to work on, fun to drive, and comes with everything you need to get into RC/Nitro.  Add to that the Stress-Tech guarantee and a nice list of hop-ups, and it's a good deal all around.   If you are looking at getting into on-road, make sure to give this car some thought.
Like with all our stuff, if you see us at the track, or an event, feel free to stop by and check it out!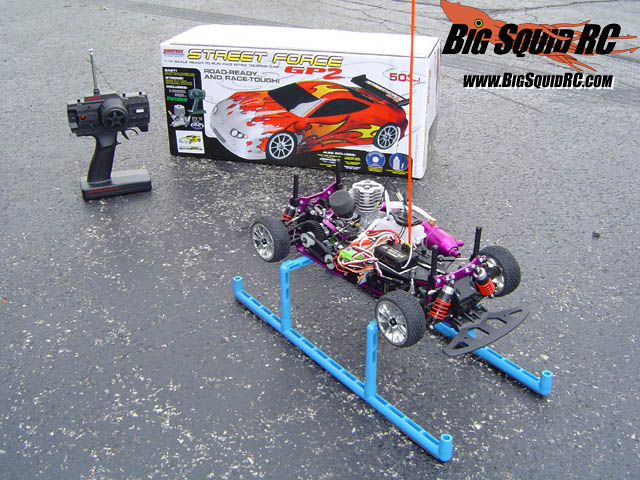 Summary

| | |
| --- | --- |
| Time to Bash | 8/10 It's RTR, but I recommend a 5 cell pack so you don't have to mess with the screws more then once. |
| Workability | 9/10 It was very easy to work on, and to get to everything. There's also a good list of hop-ups. |
| Car Show Rating | 10/10 I would have to say the best stock paint job I have seen for a RTR car. |
| Bash-A-Bility | 9/10 We bashed it good in the lot. For taking a full speed collision, not that much had broken. |
| Big Squid Rating | 9.1/10 Tentacles… If you are looking at getting into on-road, you should really consider the Street Force GP 2. |