Duratrax Ultimate E-Clip Tool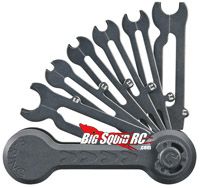 Could this be one of the greatest tools invented for the world of RC? DuraTrax has announced the Ultimate E-Clip Tool. It's made from steel and can fold up to save some space. It's built to install and remove e-clips of all sizes. Cool.
I personally hate e-clips, and cheer the companies that have been changing over to anything else. Sadly, there are still a lot of vehicles that use them, so this is probably a good tool to have. I plan on getting my hands on one, not only to check out, but just to make my life a lot easier! I hope it works!